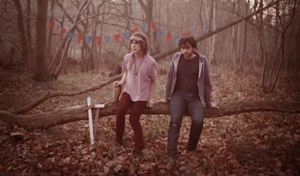 On the strength of their full-length debut, Oracular Spectacular, the fellows of MGMT made a name for themselves as one of the buzziest acts to emerge from Brooklyn's indie rock hive this year. But that reputation may only be partly deserved: While co-founder and keys player Ben Goldwasser (above, left) won't deny his band's successes (they just wrapped up a tour opening for the one and only Beck, after all) he's quick to point out that their relationship to New York's hippest borough is tenuous, at best.

Goldwasser recently took a break from preparing for a night of psychedelic, candy-coated dance-rock goodness in Des Moines, Iowa, to chat with Paste:Local NYC via telephone about not actually being from Brooklyn, crazed European fans, Halloween costumes and more.

Paste
: Your record has been doing great and receiving positive press. How do you feel about it becoming so popular?
Goldwasser
: It feels good to be able to do something you love for a living. I think there are a lot of things we were unprepared to deal with, like getting all of this attention. We didn't expect to be on the road this much. We're kind of wearing ourselves out. But all in all, it's been amazing experience.
Paste
: How's the tour with Beck going?
Goldwasser
: It's been really great. He's really nice. His whole crew is really nice. They are treating us well. We're playing in the biggest clubs we've played, every night. We go on really early, like at 7:30 or 8, so we're not playing to totally packed houses. It's good practice for us to try to play for a crowd that isn't necessarily there to see us. We have to try to win them over.
Paste
: Tell me a little bit about playing Brooklyn's
McCarren Park Pool
this summer, when thousands of people were turned away because it was so packed.
Goldwasser
: McCarren's cool. I hadn't been to other shows there, but it kind of felt like a homecoming. We don't really consider ourselves a Brooklyn band, like some who grew up there or lived there for a long time, but we have a ton of friends there, more than anywhere else. When we played McCarren it felt like we hadn't played New York in a while. It was a good crowd. It's also really cool to see people get dressed up for our shows.
Paste
: What did they wear?
Goldwasser
: People associate us with headbands for some reason, so a lot of people were wearing headbands. And brightly-colored outfits.
Paste
: Are you okay with being claimed by Brooklyn?
Goldwasser
: We're okay with it, but I get pissed off when people say we are the ones claiming to be from Brooklyn. I live in New Jersey and Andrew doesn't have a place in Brooklyn right now. But we're still based there, I guess. We feel at home there.
Paste
: Then where would you say you are from?
Goldwasser
: I'd say Connecticut, because that's where we started the band. But the people in the band are from all over.
Paste
: You start your headlining tour in Europe next month. What are you looking forward to about going abroad?
Goldwasser
: We've been there a bunch of times, but it's our first really big headlining tour there. That'll be fun. Every time we go back to Europe, the crowds get crazier.
Paste
: How so?
Goldwasser
: There are more people, and they are more into it. They know the words to all of our songs. We have some pretty intense fans in Europe.
Paste
: Do they throw headbands on stage?
Goldwasser
: No, but our fans do throw stuff onstage.
Paste
: Like what?
Goldwasser
: Weird articles of clothing. I think someone once threw a joint.
Paste
: Can you tell us anything about the new record? Are you feeling pressure to get something new out there?
Goldwasser
: We've been having a hard time writing, but we stop touring in December and are taking a few months to write and record at the beginning of next year. Most of the pressure is coming from us. We are sick of playing the same songs over and over. We love playing live, but recording is a big part of what we do and we really love working in studio.
Paste
: What will it be like?
Goldwasser
: It's too early to tell. We've been inspired by playing songs off the album live, figuring out what works and what doesn't. We're going to be less inhibited creatively on the next album, not quite as nervous. We're just going to have fun with it. We might do a double album. It'll come out maybe next summer.
Paste
: What are you going to be for Halloween?
Goldwasser
: We've had some ideas for costumes but I always seem to procrastinate and then, all of a sudden, it's Halloween and I have nothing to wear. But Halloween is one my favorite holidays. Everyone goes a little crazy. Last year we played in Athens, GA. It was amazing. Everyone in the crowd was dressed up.
Paste
: Did you dress up?
Goldwasser
: I was a matador. James [Richardson], the drummer at the time, who's now the guitarist, was a king in silk panties. The bassist, Matthew [Asti], was Clifford the Big Red Dog. Hank [Sullivant, former guitarist] was Audrey Hepburn, and Andrew [VanWyngarden, MGMT co-founder, vocalist and guitarist] was a Viking.
Paste
: Well based on that, I can't wait to see what you come up with this year.
Goldwasser
: We're trying to coordinate. But knowing us, who knows if that will happen.
(For you NYC folks, MGMT will return to town for their 2008 Halloween Spectacular, playing
Webster Hall
on Oct. 30 and the
Music Hall of Williamsburg
on Oct. 31.)
Related links:
News: Gucci Taps Into MGMT For Spring Threads
Feature: 4 To Watch: MGMGT
News: MGM Talks Sophomore Record, Preps For Tour
Others Tagged With