Catching Up With... Shugo Tokumaru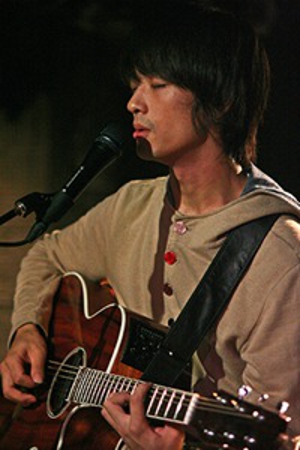 [
Above: Tokumaru performs at the Mercury Lounge.
]
On September 23rd, Toyko-based singer/songwriter 
Shugo Tokumaru
 made his New York City debut at
the Mercury Lounge
with an unconventional backing band: Jon Natchez and Perrin Cloutier of 
Beirut
, Bryan Devendorf of 
The National
 and Lawson White of 
So Percussion
joined the eclectic pop singer for a vibrant performance at a capacity house. It was an odd but welcome sight to see an artist from the other side of the world, who's seen little exposure in Western entertainment media (even these blog things we're hearing so much about), embraced with such fanfare. But one listen to Tokumaru's latest record,
Exit
(Almost Gold), provides ample reason for such enthusiasm.

Exit
comprises an introspective collection of 10 ornate pop narratives laced with experimental instrumentation (over 50 instruments, actually) that fit nicely next to his bandmates' respective catalogs. Much like the work of Sufjan Stevens and Zach Condon (both of whom attended the concert), Tokumaru's music is an unconventional exploration of odds-and-ends sound wrapped around gorgeous songcraft that has already led to opening stints for such musicians as Jens Lekman, Magnetic Fields and Iron & Wine.
Exit
isn't so much out to proclaim a definite message as it is to engulf its listener in the zero-gravity subconscious of its imagination, with lyrics that are completely inspired by Tokumaru's vivid dreams.


Paste recently sat down with Tokumaru, who spoke through his manager/translator, to discuss his unique standing in NYC's creative community and other colorful topics such as eating McDonald's for two years, New York City's homeless and recording music with kindergartners.
Paste: How did you manage to play a concert with members from The National, Beirut and So Percussion?
Tokumaru: The concert was set up through my U.S. label. I already knew Beirut and The National, and I like their music. I looked very forward to collaborating with them. We played ten songs together; I sent all of the scores to them in advance and they practiced. So when we came together to rehearse, it didn't take us long because we were well prepared.

Paste: You've lived in California for two years and Tokyo for the majority of your life. As this is your first exposure to New York, what is your initial impression?
Tokumaru: My impression of New York is not so different from my impression of Tokyo. Various places are just as dirty as Tokyo. There might be more weird people here in New York.

Paste: What's so bizarre about the people here?
Tokumaru: The homeless people here are less cheerful than in Tokyo. Weird people here like to talk a lot-- they tend to talk a lot.   

Paste: You play over fifty different instruments on Exit and your guitar skills are extremely developed. What was your musical upbringing like?
Tokumaru: I started learning piano when I was a kid and I picked up a guitar when I was 14, and then started experimenting with different instruments. I tried to bring lots of instruments on to the stage, but it was too heavy to carry all of them, so I started bringing just my guitar. I just wanted to get better at my guitar skills when I was in high school, so I practiced for 8 to 10 hours a day.

Paste: All three of your albums have been lyrically inspired by dreams. Can you walk us through the dream that became the song "Parachute"?
Tokumaru: So there's this wide ocean, and I'm in between two sides in a boat. I'm sailing from one side to the other side, so I gradually start getting tired because I'm not making it to the other side. I look up toward the sky and then I find a ceiling, and from there, a ladder coming down. I start climbing up that ladder and I get to the top, and open a window. The sky is too blue.
Paste: In a bad way?
Tokumaru: No, not necessarily in a bad way. It's blindingly blue. I'm just overwhelmed so I close the window. I climb down the stairs again and go back to the boat, and sail away.
Paste: Does a parachute figure into it at all?
Tokumaru: That's another dream in the song-- my songs have more than one dream in them. The second dream is: There's a building close to my house, and I walk up to the building. It's like New York. The traffic lights are all green. It's all "go." A person in a parachute comes from the sky and is trying to open the parachute, but it's not opening. So the moment before he touches the ground, the grim reaper comes by. Those were the first dreams for "Parachute."

Paste: What do you think the dreams meant for you?
Tokumaru: My dreams often get mixed up with reality in the end, so I cannot really tell how it affects my life. You should be careful when you dream! 

Paste: The song "Button" includes backing vocals from a class of kindergartners. How did you decide to sing with group of young children?
Tokumaru: One of my friends is a principal at a kindergarten, so he invited me to come by. I love kids and I wanted to just play with them. I also played some songs that I knew as well, so we just played together and it was a lot of fun.

Paste: Your biography states that you ate McDonald's for two years when you were living in LA. What was the reason for this?
Tokumaru: I was just getting tired of trying to find something to eat and cooking by myself, so I ended up eating at McDonalds, which was right next to my apartment.

Paste: Did you eat one specific thing, or did you go for it all? Did the same thing that happened to Morgan Spurlock in Supersize Me happen to you?
Tokumaru: Oh no, I ate everything. It all tasted good.

(Shugo Tokumaru will play CMJ on October 22nd with Margot & The Nuclear So and So's at The Bowery Ballroom.)
Related links:
Features: The National: Grow Up! Look Sharp! Be Responsible!
Catching Up With...The National
News: Beirut Unveils 13 New Videos
Others Tagged With