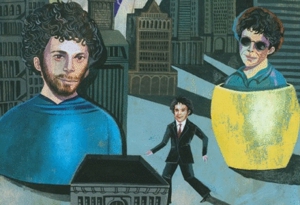 Page 1 of 2
Nobody does it meta like 
Charlie Kaufman. The reclusive screenwriter behind contemporary cinema's most delightful psych-out comedies steps behind the camera for the first time. Grab your ears so your head stays put when your mind explodes.


---
People like to throw around the word "surreal" when they talk about Charlie Kaufman's movies. What do they mean, exactly? The screenwriter's signature comedies—which include
Being John Malkovich
,
Adaptation
and
Eternal Sunshine of the Spotless Mind
—might also be called weird, fantastical, ridiculous, twisted, process-oriented, in tune with the swooning lyricism of heartache, eccentric, rococo, mordant, antic, wackadoodle and—in an entirely different frame of reference than the one critic Manny Farber intended when commenting on Godard's
Weekend
—in love with their own body odor.
As utterly gonzo as Kaufman's characters and stories are, they're only as outrageous as the errant, obsessive rhythms of thought going clickety-clickety-click inside our own heads. It's just that Kaufman has more immediate access to all those idiosyncratic brainwaves. He can't stop himself. He's like a character in a Borges short story who happens upon a rare vista into an imaginary world only to become so consumed by it that the "real" world ceases to exist. Kaufman—not unlike his anxious, lovestruck and artistically fraught heroes—compulsively thinks outside the box. And then he builds a bigger box.

Adaptation, for instance, is an adaptation of New Yorker writer Susan Orleans' The Orchid Thief that centers on a Hollywood screenwriter's efforts to adapt the book into a movie. The writer, named Charlie Kaufman (Nicholas Cage), has a more successful and aesthetically shallow twin named Donald (Cage again). His extreme case of writer's block can only be resolved by the arrival of a killer alligator in the movie's third act. And in Being John Malkovich, a failed puppeteer (John Cusack) takes possession of the actor John Malkovich's mind via a mysterious portal in a low-rent office building in order to win the affections of a co-worker (Catherine Keener) who is two-timing him with his own wife (Cameron Diaz). Malkovich (himself) is not pleased. When the actor finally discovers the portal and does the unthinkable—crawls inside his own head—he arrives in a restaurant populated by Malkoviches, carrying on conversations that consist entirely of the word "Malkovich." The name of every last menu item? Malkovich.

Both Malkovich and Adaptation were directed by Spike Jonze. Considering the creative freedom Kaufman has enjoyed with screenplays that often were legends before Jonze had the bravado to make them into movies, news that the 50-year-old writer was directing his first feature, Synecdoche, New York, seemed at once inevitable and a tad mind-boggling. How does Charlie Kaufman top himself?

Like this.

Synecdoche, New York tracks the travails of Caden Cotard (Philip Seymour Hoffman), a depressed middle-aged community-theater director in upstate New York (hence the title's pun on Schenectady), who begins writing an epic production after his painter wife (Catherine Keener) leaves him and takes their young daughter to Berlin. Even as his body seems to be falling apart from a series of mysterious ailments, Caden throws himself into his play and into an extended series of relationships with the women around him (who include Samantha Morton, Hope Davis, Michelle Williams and Emily Watson). After winning what must be the world's most generous MacArthur grant, he rents a giant warehouse and constructs a parallel theatrical universe in which all the characters are based on real people and situations in his life. The drama, which goes through decades of rehearsals and never actually opens, grows exponentially as the lines that separate art from life from memory blur beyond recognition—requiring even more warehouses! As Caden ages, he slips deeper and deeper into a whirling temporal vortex that magnifies his inner demons and desires like a hall of mirrors.

"I have different life experiences, and different things in my head that I'm thinking about," Kaufman says. It's been said that he enjoys doing interviews as much as a cat enjoys a bath, but once he gets going, he responds at passionate length, his straightforward replies gradually becoming more anecdotal—even though he guards against inquiries into his private life. "I try consistently to test the water further each time I write something. I felt like I was doing that this time. There is decidedly nothing cute in this movie. No cute contrivance or reveal that makes it OK, that allows you as an audience to escape and get out, to say, 'Oh, look how clever it is.' This movie doesn't do that. It doesn't give you that. It leaves you there at the end where it leaves you."

Indeed, Synecdoche offers no escape hatch. It's 124 minutes of existential wallow, shot through with dreamlike passages, wonderfully arcane asides, a multiplicity of in-jokes-within-in-jokes, and a gallery of perversely imaginative characters richly inhabited by a killer ensemble cast. That the film is largely concerned with death, loss, suffering and the persistence of unreliable memory doesn't necessarily make it so different from all those other Charlie Kaufman comedies, except nearly every scene that could play for uneasy laughs or a spoofy punchline aims even harder for a profound moment.
Others Tagged With