GNR's Chinese Democracy goes Best-Buy exclusive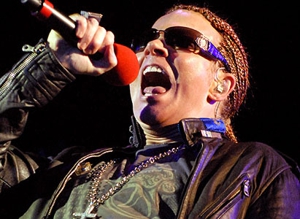 For 15 years, Guns N' Roses' Chinese Democracy has stood as a monument to the perils of rock 'n' roll egoism, a perennial punchline and the embodiment of Shelley's Ozymandias: "Look on my works, ye mighty, and despair!" Five producers and $10 million deep into the boondoggle there was little hope that the album would ever see the light of day, before GNR graced the public with some new material released via a video game. Our long national nightmare may at last be drawing to a close; Chinese Democracy could be released before the end of the year. There is a catch, though...only at Best Buy. And the audience sighs.

As had previously been rumored, the long-awaited album is following in the footsteps of AC/DC and Garth Brooks by going big-box only. Originally planned for release in March of 2007, the album hit delay after delay, not least of which was the leak of nine unmastered tracks. Of course, this does mean that Chinese Democracy is actually going to be released soon, but like everything that Axl Rose has touched in the last decade, nothing is certain.

In other GNR news, the band recently confirmed that one of Chinese Democracy's tracks, "If the World", will feature in the upcoming Leonardo DiCaprio flick Body of Lies. The song won't actually be on the soundtrack, which seems curious at first but probably has more to do with how much rights cost than anything else. Hey, even if the album tanks, Slash and Buckethead will have a free Dr. Pepper to chuckle over.

Chinese Democracy is tentatively confirmed for a Nov. 25 release date on Interscope.

Related links:
News: Chinese Democracy possibly seeking big-box only release
GunsNRoses.com
MTV: Chinese Democracy was not meant to be heard

Got a news tip for Paste? E-mail news@pastemagazine.com.

Others Tagged With