Decemberists' Colin Meloy talks Hazards of Love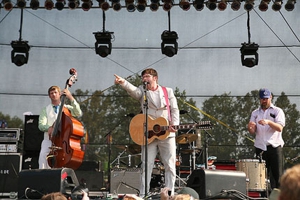 In the wake of last week's maddeningly brief announcement that recording had wrapped and mixing commenced on the Decemberists' upcoming fifth release, Paste got in touch with frontman Colin Meloy
—not to
chat about meat
, but to further flesh out some details on the album now known as
Hazards of Love
. And unless your indie rock crystal ball somehow indicated the band's eventual adoption of British stoner metal as a major sonic touchstone, what we learned might surprise you.
"Without giving away too much, it's definitely mossy and evil," Meloy said, confirming the band's achievement of the
Black Mountain-inspired goal
he'd set earlier this summer, "It's ambitious. It's pretty dense. There's lots of lots and lots and lots of guitars." In terms of a release date, he said they're "shooting for April."
Meloy crafted the bulk of the album during the month he spent in Southern France with his wife and son this spring. Some songs were just "germs of ideas" at the time, but others, including a few he'd played at solo shows earlier in the year (like the nine-minute track since
circulating online
as "Hazards of Love, Pt. 1 and 2"), were then almost fully-formed, though they were originally intended for another project altogether.
"It's one continuous story throughout the whole album," Meloy said of
Hazards
' lyrical threads. "It was initially conceived as a musical [...] but I decided about halfway through my time in France that it wasn't going to work as a stage piece. But it would still work as a rock record, so that's where it ended up." (Meloy notes that he's "still working with" some producers on "another project," so perhaps all hope's not lost on that musical.)
The end result is "an amalgam of motifs from folk songs, an experiment of weaving them together into a narrative," he explained. "Basically, the product of listening to too much Anne Briggs and Nic Jones and Shirley Collins."
But the album's sonic reference points don't seem so traditional. Back in Portland, Ore., Meloy's bandmates were apparently given little insight into what lay ahead until the start of recording, for which they were joined by longtime producer Tucker Martine. (Chris Walla, with whom they also wanted to collaborate again, was busy on tour with Death Cab for Cutie.) But when the band finally came together, they landed on a few core reference points for the sessions: psych-folkers
Pentangle
, early synthesizer pioneer (and composer of the
A Clockwork Orange
and
Tron
soundtracks)
Wendy Carlos
and, yes, sludgy U.K. stoner metalists
Electric Wizard
.
"If you can imagine an amalgam of those three things, that's what the record sounds like," Meloy allowed, further confirming both the new record's potential for groundbreaking insanity and his love of the word "amalgam."
But if you can't imagine that amalgam (one more time:
amalgam!
), don't expect the band's
upcoming tour
to be of much help: The Decemberists will mostly be focusing on material from
their Always The Bridesmaid singles series
, which launched this week. (Do check out the playlist below, though, for a sampling of tracks by the artists Meloy mentioned as inspirations and touchstones.)
The seven new songs, which the band felt wouldn't fit on
Hazards of Love
, mine familiar territory: Sweet, acoustic odes ("Raincoat Song"), pensive domestic tableaus ("Record Year") and giddy political character sketches ("Valerie Plame"). Pressed on
limited-edition colored vinyl
, the three singles are a lovely farewell to a side of the Decemberists we might not be seeing much of for a while.
Related links:
Others Tagged With