Franz Ferdinand album to include "human bone" sounds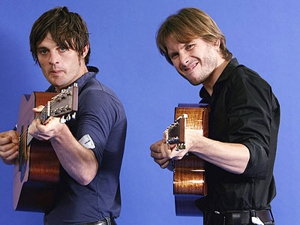 Franz Ferdinand is making good on its promise that their next album won't be "by the numbers." Which is to say it'll be all about the numbers; specifically bone circumference and density.

You read that right: the Scottish quartet just happened to have a human skeleton lying around the studio, so each member of the band made like Hamlet and did what anyone would do when staring down their own mortality:

"I remember we were working on a song called 'Kiss Me' and we wanted to have a real dry, percussive sound in the chorus," frontman Alex Kapranos said in a recent interview. "We had this skeleton in a box that just ended up sitting in the corner of the studio ... and decided to experiment with it ... We smacked the ribs together and we got this really weird, fucked-up kind of a sound that was wicked. I can't think of any records with human bones on it."

The new LP, called Tonight: Franz Ferdinand, is inspired by the "heavy dub sound of Jamaican reggae stars," though it remains to be seen where a calcified endoskeleton fits into that inspiration. The album is expected some time in early 2009.

Related links:
News: Franz Ferdinand eyes Spring for new record
FranzFerdinand.co.uk
YouTube: Franz Ferdinand - "Michael"

Got a news tip for Paste? E-mail news@pastemagazine.com.

Others Tagged With