George A. Romero preps new flick (with underwater zombies!)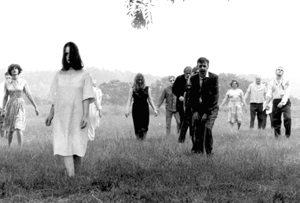 When flesh-ripping royalty George A. Romero returned to his beloved zombies after a long moratorium with 2005's Land of the Dead, it wasn't really clear why. His undisputed masterpiece Dawn of the Dead had already undergone a jazzy Hollywood remake, and Danny Boyle had effectively retooled the genre's bag of tricks with 28 Days Later. "Thirty-seven years after he first brought his hungry macabre flesh-stalkers to the screen in Night of the Living Dead," the critic Owen Gleiberman wrote at the time, "Romero may be the last person alive who still thinks they're a metaphor for something important."
Still, even though
Land of the Dead
came and went without much notice, that didn't deter the genre maestro from taking on
Diary of the Dead
just two years later, which made less than $1 million at the U.S. box office. Either oblivious to this fact or, more likely, content to do whatever he pleases, Romero has begun filming yet another new zombie flick, this time about an island community whose dead relatives come back to snack on the loved ones they left behind.
According to
Variety
, the movie will
stake out new moral ground as well
, including the island's debate over whether to re-kill the zombies or hold out for a cure. More important, a production honcho apparently involved with the film told MovieSet.com that
underwater zombies are in play
. "They're swimming, grabbing people's legs, pulling them down," he said. "It's a lot of fun."
Zombie swimming? Awesome! There's no release date yet, but we'll keep both eyes open.
Related links:

George A. Romero on IMDb
The New York Times: George A. Romero biography
HomepageOfTheDead.com
Got news tips for Paste? E-mail news@pastemagazine.com.
Others Tagged With