Guns N' Roses' Chinese Democracy gets release date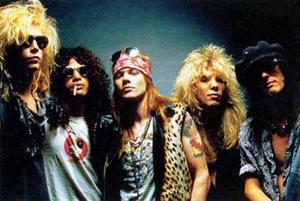 Break out the Dr Pepper, y'all.

Well, almost. According to a Billboard report that cites "sources close to the situation," Guns N' Roses' long-promised Chinese Democracy will finally hit store shelves (and by "store" we mean "Best Buy") on Nov. 23. Intrepid and/or freakishly talented readers will note that that particular day is a Sunday. Yes, most records come out on Tuesdays, but GNR doesn't play by your rules, maaaan.

GNR fanatics eagerly awaiting the release can get a taste of the record by playing Rock Band 2, which features Chinese Democracy's "Shackler's Revenge." Or, those that like their Axl with a with a little spy thriller on the side can head to the multiplex this weekend and watch Ridley Scott's Body of Lies (starring Russell Crowe and Leonardo DiCaprio), which includes a portion of "If the World," also from said forthcoming record. Finally, for those wishing all this talk of a new GNR record would just go away (and at this point, we can't blame you), that we could just go back to a simpler time, Appetite for Destruction will be given the vinyl reissue treatment on Oct. 28.

But seriously, about that Dr Pepper? If you'll recall, the soft drink manufacturer previously promised a free can of its product to every man, woman and child in America if Chinese Democracy found release this year. Now, with the supposed date barely a month away, is the Good Doctor sweating it? Hardly, it turns out.

"We're waiting to hear about Chinese Democracy just like all the other GNR fans," Dr Pepper VP of marketing Tony Jacobs told Billboard. "But if the rumors are true, we're putting the Dr Pepper on ice."

Related links:
News: GNR's Chinese Democracy goes Best Buy exclusive
Ctrl-V: The Story of the 2008 Presidential Election in Song
Feature: 2,305 Words on "Sweet Child O' Mine"

Got a news tip for Paste? E-mail news@pastemagazine.com.

Others Tagged With