How to Lose Friends & Alienate People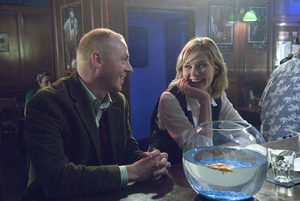 Release Date:
Oct. 3
Director:
Robert B. Weide
Writers:
Peter Straughan (screenplay), Toby Young (book)
Cinematographer:
Oliver Stapleton
Starring:
Simong Pegg, Kirsten Dunst, Megan Fox, Gillian Anderson
Studio/Run Time:
Metro-Goldwyn-Mayer, 110 mins.
How to Lose Friends & Alienate People is the dark twin of 2006's The Devil Wears Prada. Instead of Anne Hathaway playing a young and determined writer, How to Lose features Simon Pegg as Sidney Young, British pseudo-equivalent running a small Spy-esque magazine falling on hard times. He attracts the notice of famous editor Clayton Harding (Jeff Bridges), whose first magazine was in the same vein, and is offered a job writing for Sharp, a clear stand-in for Vanity Fair. But due to incompetence and a general unlikeability, he has a hard time getting anywhere and seems destined to return home without fulfilling his dreams of writing about the stars.
Where How to Lose differs from its predecessor is that, while Hathaway's character is enjoyable and ultimately succeeds through maintaining her ethics, Young is pretty much an insufferable jerk all around who ends up succeeding only when he sells out completely. This is tempered somewhat by Pegg's own natural affability, but he's hard to care about much, mostly because there's no reason the viewer should. This also makes his eventual turnaround from class clown to go-to guy particularly unbelievable, transforming an hour of incompetence with two quick minutes of montage.
If the film's message that only corruption can get you anywhere in the world seems less Hollywood than Prada, this is only on the surface. Structurally, the film offers no surprises to anyone who's watched more than about 10 films in their lifetime, and even this predictability is stretched thin. With a barely tolerable protagonist, How to Lose has to run on the strength of either its premise, which has clearly been done before, or its comedy. How to Lose's jokes aren't bad, but they're never able to find a consistent tone. As a result, the film shifts from radically unreal jokes to character observations, and this is a particular problem given that everyone featured is just a caricature.

Bridges, Pegg and even love-interest-by-numbers Kirsten Dunst do a fine job, but the material they're working with just isn't there. It's hard to fault director Robert Weide (Curb Your Enthusiasm) much either, as he does know how to direct comedy. But the cohesion isn't there, and it ends up feeling like work-for-hire for everyone involved. How to Lose ends up proving that regardless of anything else, an unpleasant lead character and weak jokes end up making for an unpleasant and weak movie.
Watch the trailer for How to Lose Friends & Alienate People:

Others Tagged With