Jon Brion's song for Synecdoche, New York revealed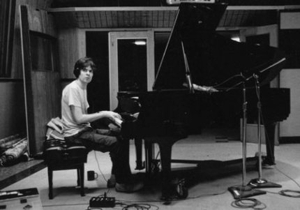 There's a scene in the Charlie Kaufman-penned Eternal Sunshine of the Spotless Mind where Jim Carrey and Kate Winslet sit on a sofa and devise a plan to find a memory the two can hide in together. Carrey reminisces back to his most cherished childhood memories—splashing about in puddles and catching raindrops on his tongue and fingertips, garbed head-to-toe in a yellow slicker and matching boots. "Row, row, row your boat," he remembers. Then it begins to rain inside the apartment where Carrey and Winslet sit, as if the memory has taken on a life of its own. It's an unforgettable moment, one made all the more affecting by the quietly entrancing piano melody in the background composed by Jon Brion.
Brion's a solo musician in his own
right
but has also crafted the scores for
I Heart Huckabees
,
Punch-Drunk Love
and the aforementioned
Sunshine
. Brion will collaborate with Kaufman again, this time composing a song entitled "Little Person" for Kaufman's directorial debut
Synecdoche, New York
.
The track can be streamed from the film's Facebook
page
.
Enlisting vocals from jazz singer Deanna Storey, the sleepy piano ballad will certainly only improve when viewed in context of Kaufman's film. But Brion's lyrics are as melancholic and timeless as ever: "I'm just a little person, one person in a sea / Of many little people, who are not aware of me / I do my little job, and live my little life / Eat my little meals, miss my little kid and wife."
Synecdoche, New York
—starring Philip Seymour Hoffman, Michelle Williams, Samantha Morton and Catherine Keener—hits theaters in select cities Oct. 24.
Listen to Jon Brion's "Row" from Eternal Sunshine of the Spotless Mind:Related links:
Jon Brion on MySpace
News: Watch the trailer for Synecdoche, New York
News: Charlie Kaufman's Synecdoche, NY in talks with Sony
Got a news tip for Paste? E-mail news@pastemagazine.com.
Others Tagged With