Debbie Harry, Lil Wayne, more guest on new Fall Out Boy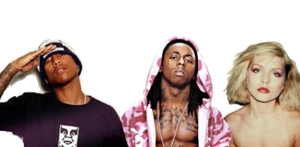 They say it's not what you know, but who you know. It seems Fall Out Boy has taken this rule to heart on its upcoming record, Folie à Deux. In an e-mail exchange with MTV News, fab FOB frontman Pete Wentz confirmed that the band has scored guest spots from Lil Wayne and Blondie frontwoman Debbie Harry for its upcoming record, set for release in November. Wentz also confirmed that workhorse producer Pharrell contributes a track to the album. We'd like to say this is Debbie Harry's strangest collaboration, but if you'll recall, she did that track with Mobb Deep and Coolio in 1999.
Rumors about Fall Out Boy collaborations with Lil Wayne and Kanye West began spreading like brush fire across the Internet following
an enigmatic post
from 19-year-old blogger Justin Goldberg. Wentz denied the claims via
his own blog
, only to recant less than a week later. Whether West will appear on the record remains to be seen, though it's a safe bet that somebody will blog about it at some point. (Probably
'Ye himself
.)
Although the band recently released the album's tracklist, there's no word on which
Folie à Deux

tracks the three will appear on as of yet. We're hoping for a bizzaro collaboration from Lil' Wayne on "Disloyal Order of Water Buffaloes." There's no way that wouldn't be

friggin' awesome. Full tracklist below:

Disloyal Order Of Water Buffaloes
I Don't Care
She's My Winona
America's Suitehearts
Headfirst Slide Into Cooperstown On A Bad Bet
The (Shipped) Gold Standard
(Coffee's For Closers)
What A Catch, Donnie
27
Tiffany Blews
w.a.m.s.
20 Dollar Nose Bleed
West Coast Smoker
Related links:
Others Tagged With