Live Review: Pinback @ The Music Hall of Williamsburg 9/27/08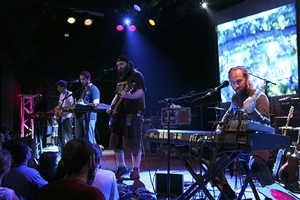 It's hard to nail down exactly what type of music Pinback plays (too complex for indie rock, too self-aware for prog) but to the sold-out crown at the Music Hall of Williamsburg on Sept. 27, it was clear that Pinback is a straight-up rock band, first and foremost. The night's closing tune even featured a moment of which the dudes of Spinal Tap would be proud: Bringing out opener Kylesa, the two bands performed an epic rendition of "June" with no less than four guitarists, four bassists and two drummers.
Though it drew primarily from the band's latest record, Autumn of the Seraphs, the band's set touched upon its entire discography, including fan favorites from breakout hit Blue Screen Life and lesser-known tracks off their EPs Offcell and Some Voices. The crowd was clearly more enthused for the band's older tracks, cheering wildly for "Penelope" and "Tripoli."


Throughout the night, the band tried its best to incorporate a DIY stage show that relied heavily on a video display controlled by frontman Rob Crow. Occasionally everything worked, with clips from the film
Dark Star
(from which the band got its name) playing in time with the music. But for much of the set, the band seemed out of sync with the visuals, and the videos often drew attention away from the performance, as if the band didn't want us watching it at all. Still, most hiccups were excused, as Pinback has been recently playing without their longtime keyboardist Terrin Durfey, who's currently fighting cancer. (Donations to his family are being accepted
here
).
In many ways, Pinback is an oddity in this day in age, an unapologetic child of the '90s (see Crow's Drive Like Jehu t-shirt) that has no problem playing drop-d, post-hardcore for sensitive people. Still, when the band locks together for complex runs on songs like "Non Photo Blue" and "Good to Sea," it's really a thing of beauty.
Others Tagged With