Jagger, Bowie and Elton collaborating for 2012 Olympics?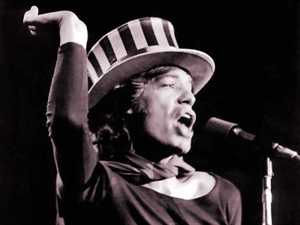 Supergroups can be a tricky beast. Sometimes, they bring out best in everyone involved. Other times, they're an experiment best left in the lab. Either way, the allure of so much star power in a single place can often be too much to resist. So despite our best efforts to raise a cynical eyebrow on this one, it looks, well, kinda fun: Mick Jagger is angling for a star-studded collaboration with David Bowie and Elton John for the 2012 Olympics in London.

The Rolling Stones have already been booked to perform at the opening ceremonies. An unnamed source dished to OK! Magazine recently that Jagger wants to be joined onstage by Bowie and John (maybe he was inspired by the resurgence of posse cuts in hip-hop): "Mick feels the Olympics coming to London is a huge honor - and wants to make his own gesture with the band."

Other big names who have been tapped as potential performers include Sting, Van Morrison, Phil Collins, Pink Floyd guitarist David Gilmour and Led Zeppelin guitarist Jimmy Page.

"It's early stages but Page, Bowie, and Morrison are already involved, although no one is quite sure yet how the show will play out in its entirety," the source explains. "The Olympics people hope to use the template of the American football Super Bowl half-time show. Having the Stones on side for a project like this is a huge deal."

If they can actually make this happen, it could be an exciting new trend in the world of high-profile collaborations (the potential for replayability on YouTube alone is mouth-watering). Jagger and Bowie on lead vocals, Page on guitar, Elton on piano, and Collins on drums for good measure. Be still our beating hearts. Supergroups: they're not just for progressive rock any more.

Related links:
News: Mick Jagger to present report for European Commission
News: David Bowie looks back on his favorite David Bowie songs
High Gravity: 10 best songs in commercials during the Olympics

Got a news tip for Paste? E-mail news@pastemagazine.com.

Others Tagged With