Nichols remaking Kurosawa's High and Low with Mamet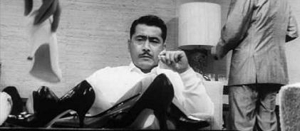 As far as remakes go, few directors have had their works re-imagined as many times as Akira Kurosawa. The most famous of these, A Fistful of Dollars and The Magnificent Seven, have been almost as successful as the originals. Since Kurosawa sticks to such universal themes and does so with a self-consciously Western eye, it's no surprise that as time goes by more directors are looking back to Kurosawa for future inspiration.

While some of these projects, like
Jim Sheridan's work on Ikiru
, have been stalled, surprisingly, Mike Nichols' remake of
High and Low
looks production bound. The project originally began in 1999 when Martin Scorsese, a huge Kurosawa fan, commissioned its screenplay. This fell into the hands of David Mamet, best known as for his play,
Glengarry Glen Ross
, but quite a director in his own right, best shown by
House of Games
and this year's
Redbelt
. Nichols isn't a brand-name auteur, but his features
The Graduate
,
Postcards from the Edge
, and episodes of
Angels in America
should assure anyone worried of a bastardization.
It's in fact a bit fitting that the film is coming back West, since
High and Low
was originally based on the pulp detective story
King's Ransom
by Evan Hunter. The film is particularly admired for its tense first act and the strong influence of film noir, which is quite unique for a Japanese film of the period. The remake is being produced by Scott Rudin, who currently runs Miramax, and rumor has it Scorsese will stay involved as executive producer. It's still too early for casting or production dates, but the unlikely combination of Nichols, Mamet, Kurosawa and Scorsese already has us excited.
Others Tagged With