N.A.S.A. debut to feature David Byrne, Ghostface Killah, Tom Waits, Chuck D, Karen O, Kanye West, M.I.A., many more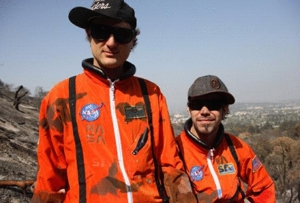 As an acronym, N.A.S.A. already shares custody between spaceship makers and saxophone enthusiasts, but the like-named hip-hop duo forged by American Squeak E. Clean and Brazilian DJ Zegon will soon confound that already divided moniker. On Feb. 17, the N.A.S.A. men (whose own handle stands for North America/South America) will release debut The Spirit of Apollo via Anti- Records.

Apollo
folds in a hailstorm of guests into some bizarre—but undeniably awesome—groupings. Tom Waits, David Byrne, Chuck D, Seu Jorge, Lovefoxxx, Method Man, E-40, KRS-One, Karen O, Kanye West, George Clinton, The Cool Kids and Ghostface Killah constitute only a portion of the list (see all below).
This full-to-bursting barrel of featured artists comes not as a huge surprise, since both N.A.S.A. members having collaborated throughout the music world extensively in the past. Squeak E. Clean (whose
brother
, incidentally, has been written up in these pages a couple times) has produced tracks for Iggy Pop, Maroon 5 and the Cardigans, as well as the Yeah Yeah Yeahs'
Show Your Bones
, while DJ Zegon has traveled throughout Latin America, mixing traditional Brazilian beats with underground hip-hop.
Along with the album release, a large-scale multimedia live show is promised to be in the works, so stay tuned for details on what will assuredly be an extravaganza to rival the silly events (read: moon missions, etc.) of that forgettable other N.A.S.A.
The Spirit of Apollo
tracklist:
1. "Intro"
2. "The People Tree" (feat. David Byrne, Chali 2na, Gift of Gab,& Z-Trip)
3. "Money" (feat. David Byrne, Chuck D, Ras Congo, Seu Jorge, & Z-Trip)
4. "NASA Music" (feat. Method Man, E-40, & DJ Swamp)
5. "Way Down" (feat. RZA, Barbie Hatch, & John Frusciante)
6. "Hip Hop" (feat. KRS-One, Fatlip, & Slim Kid Tre)
7. "Four Rooms, Earth View"
8. "Strange Enough" (feat. Karen O, Ol' Dirty Bastard, & Fatlip)
9. "Spacious Thoughts" (feat. Tom Waits & Kool Keith)
10. "Gifted" (feat. Kanye West and others TBD)
11. "A Volta" (feat. Sizzla, Amanda Blank, & Lovefoxxx)
12. "There's a Party" (feat. George Clinton & Chali 2na)
13. "Whachadoin?" (feat. Spank Rock, M.I.A., Santogold & Nick Zinner)
14. "O Pato" (feat. Kool Kojak & DJ Bãboa)
15. "Samba Soul" (feat. Del Tha Funkee Homosapien & DJ Qbert)
16. "The Mayor" (feat. The Cool Kids, Ghostface Killah, DJ AM & Scarface)
17. "N.A.S.A. Anthem"
Related links:
Squeak E. Clean on MySpace
DJ Zegon on MySpace
N.A.S.A. on MySpace

Got news tips for Paste? E-mail news@pastemagazine.com.
Others Tagged With