Barack Obama to appear on The Daily Show tonight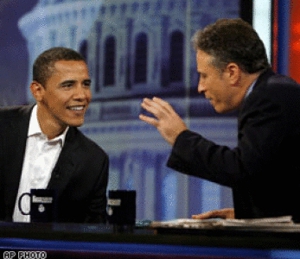 Tonight, Senator Barack Obama will make his fourth guest appearance on The Daily Show. The Democratic Presidential nominee will join the program's host, Jon Stewart, via satellite from Florida, where his campaign continues with less than a week until Election Day.

Obama last appeared on The Daily Show near the end of the Primary Elections, when he talked about his gaffes, then-opponent Hilary Clinton, and how he makes everything sound so inspirational.

The show's coverage of the Presidential Election (or, as they term it, "something approximating election news with something approximating honesty") will culminate with a live, election night special. "Indecision 2008" pairs Stewart with Stephen Colbert (of The Colbert Report) for an hour-long program Tuesday night, beginning at 10 p.m. ET.

Obama's TV time this evening is not limited to the interview with Stewart, however. He's bought out half an hour of commercial time on CBS, NBC, Fox, MSNBC and BET. His last-lap campaign message will broadcast tonight at 8 p.m. ET.

The Daily Show's website is accepting comments now; they want to know what you think Stewart should ask Obama. The program airs at 11 p.m. ET, on Comedy Central.

Related links:
News: Maya Rudolph returning to SNL, Barack Obama next?
News: David Sedaris talks to Jon Stewart, unleashes flames
News: Athens, Ga. musicians join Barack Obama t-shirt industry

Got a news tip for Paste? E-mail news@pastemagazine.com.

Others Tagged With