Peter Straub (Editor)
Poe's Children: The New Horror: An Anthology [Doubleday]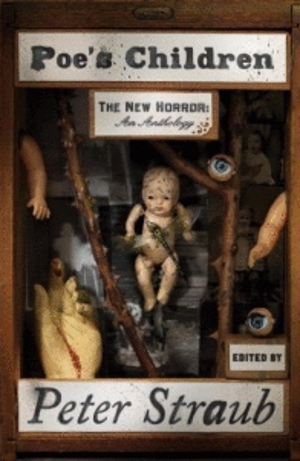 It's human nature to love a mystery. We're curious to know what happens after the final curtain falls; we ponder what's in that room that's always locked. Now just in time for October's early dark comes Peter Straub's ambitious (and hefty—25 stories, 500 pages and counting) collection of modern horror stories.

We're in good clammy hands here, for Straub is eminently qualified, having made prodigious contributions to the field himself: 17 novels including the truly spooky M. R. Jamesian Ghost Story, the great horror novella "Mrs. God," and two collaborations with the horror master himself, Stephen King.

Poe's Children is subtitled Modern Horror: An Anthology, and all the stories are truly modern—or at least recent. The earliest dates to 1982 and most were published around the time the millennium turned. Straub's introduction states his belief that the most auspicious change in American fiction in the last 20 years or so is the merger of horror fiction and mainstream literary fiction, and he may be right.

Horror fiction has always had a bad name. Of course, American writers have flirted with the macabre: Hawthorne had his old dark house; Poe more or less invented the genre; and some of Flannery O'Connor's stories are steeped in gothic dread. Even Faulkner sent his rose to Emily.

But horror is usually identified with the pulp magazines of the 1920s, '30s and '40s, when H.P. Lovecraft mailed his stories of the Cthulhu mythos off to Weird Tales from twilight New England. Conventional wisdom anoints this period the heyday of horror writing, but the true golden age of horror runs from the mid-1980s through the '90s.

A curious conjunction of events led to this: Stephen King's unprecedented popularity; Straub's own work; the success of The Exorcist as book and film; the aura of respectability with which a director of Stanley Kubrick's stature imbued the genre when he directed King's book The Shining. Suddenly the paperback racks were overflowing with garish embossed covers showing devil-possessed children clutching axes, demons crawling through cracks in the netherworld with dire intent, succubi whose attractions were fatal.

Few of these writers lasted, but something else was going on. Dozens, perhaps scores, of magazines and fanzines with names like Pulphouse and Cemetery Dance sprang up. They all published short stories at a time when the mainstream market for short fiction was shrinking, so a lot of talented young writers found it easier to break into Weird Tales or Whispers than The Atlantic Monthly. These are Poe's children.

A lot of the editors were young too, and more interested in pushing back borders and kicking down doors than they were in traditional stories about vampires or Victorian ghosts. Some of the work they published was the equal of anything the slick literary magazines were doing.

There are no vampires in Poe's Children, and the demons tend to be the internal sort. The protagonist of Dan Chaon's marvelous "The Bees" would probably have been grateful for an adversary as concrete and clear-cut as a vampire, for you can't drive a stake through your own heart, and a crucifix doesn't work in a mirror.

Several of the stories are long and substantial enough to be novellas: Elizabeth Hand's remarkable "Cleopatra Brimstone" has the depth of characterization and complexity of a novel, and Stephen King's "The Ballad of the Flexible Bullet," about a muse living in a writer's typewriter (that's where the words come from) clocks in at 49 pages.

One of the pleasures of reading an anthology is second-guessing the editor, and Poe's Children has its share of curious omissions. Joyce Carol Oates, who practically invented the literary horror story (Night-Side, Haunted) isn't here, nor Karl Edward Wagner or Clive Barker. Robert Aickman whose strange, enigmatic stories influenced a lot of writers (including Straub himself—"Mrs. God" again) is conspicuous by his absence. And a couple of the more experimental stories are more irritating than innovative.

But horror, like humor, is largely subjective—as Paul Simon said, one man's ceiling is another man's floor. And we do have Thomas Tessier's "In Praise of Folly" and M. John Harrison's marvelous "The Great God Pan" with its sense of impending doom. As for Straub's argument for the literary merits of modern horror, he can pretty much rest his case.
Others Tagged With