Pixies frontman Frank Black gives KFC the bird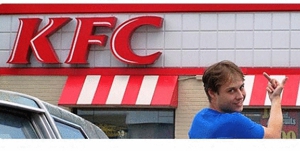 Pixies frontman Frank Black recently teamed up with peta2, the world's largest animal rights youth advocacy group, petitioning to improve the lives of KFC chickens.

Black has signed a petition in protest of squalid animal treatment and urges fans to do the same. Peta2 warns that the chickens used by Kentucky Fried Chicken stores in the United States "are drugged and bred to grow so large that many become crippled from the weight of their massive upper bodies. Their throats are often cut while they are still conscious, and millions of birds are scalded to death in defeathering tanks every year."

"Frank knows that consumers care about animal welfare, and he's helping to spread the word that KFC stands for cruelty," the organization's (ironically named) Lara Sanders said. "After all, if KFC executives treated cats or dogs the way that they allow KFC's suppliers to treat chickens, they'd be hit with cruelty-to-animals charges."

You can be involved, too. Black's effort is related to a peta2 program called "Give KFC the Bird!," which asks concerned parties for pictures of themselves flipping a KFC sign the middle finger. Click here to submit a photo, or here to sign the petition.

Related links:
Catching Up With... Frank Black
Pixies on MySpace
Peta2.com

Got a news tip for Paste? E-mail news@pastemagazine.com.

Others Tagged With