Robert Plant shoots down Led Zeppelin tour, record rumors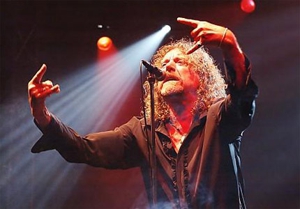 Rumors that Robert Plant will join Led Zeppelin for a possible 2009 tour and recording session have been shot down via his official site.
The longtime Zeppelin lead singer and current
Alison Krauss
collaborator said that he "has no intention whatsoever of touring with anyone for at least the next two years," and went on to say "it's both frustrating and ridiculous for this story to continue to rear its head when all the musicians that surround the story are keen to get on with their individual projects and move forward."
Ever since Led Zep's reunion show in London last December, fans have
speculated that the band will officially reunite
, some even wondering if the band was planning to replace Plant if he refused to come back. The singer, who has received much acclaim for his 2007 album and tour with Alison Krauss, added that "I wish Jimmy Page, John Paul Jones and Jason Bonham nothing but success with any future projects."
In order to appease the pain, Zeppelin fans can revel in a new release.
Rhino
is putting out a 10-disc boxed on Nov. 4 featuring all nine Zeppelin studio albums along with rarities album "Coda" in mini-LP replica sleeves with artwork from the original U.K. vinyl releases.
Related links:
Others Tagged With