The Black and Whites tour, Mess Around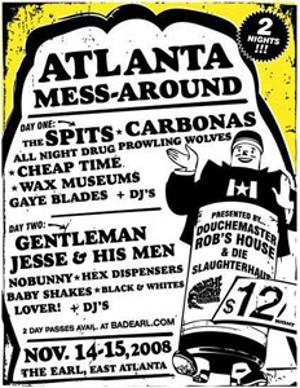 "I need a good girl," go the very first words of The Black and Whites self-titled debut, "one who will not make out with her friends." It's a not-very-rock-'n'-roll sentiment from a quintessentially rock 'n' roll band, one that seems to pull equal influence from the poppiest moments of bands like Weezer and Guided by Voices and the punkiest moments of bands like the Ramones and Black Flag. Some of their songs are fast, some of them are slower. Many of them, such as "That Girl Ain't No Good," are about the ladies.

Makes sense, then, that the Oxford, Miss. band is putting out its crunchy jams on Douchemaster Records, the honorable, Atlantan imprint responsible for previous Paste Artist of the Week, Gentleman Jesse. On the topic of the Black and Whites self-titled debut, the masters of douche have this to say: "You'll probably want a beer and a smoke before the end of the first song. Simplicity and a party are the keys to this record." Fun!

The Black and Whites are taking their party show on the road. Starting in its hometown on Nov. 6, the band will hopscotch around the Midwest and East coast, ending up in the ATL for Atlanta Mess Around, a two-day event put on at The EARL by Douchemaster and local label buddies Rob's House and Die Slaughterhaus. Featured during the Nov. 14-15 rockfest alongside the Black and Whites are the aforementioned Gentleman, Carbonas, Black Lips side project the Gaye Blades, All Night Drug Prowling Wolves and many more. Mess around, indeed. Look forward to a Paste:Local report from the two evenings in mid-November.

Black and Whites tour dates:

November
6 - Oxford, Miss. @ Jubilee
7 - Nashville, Tenn. @ Foobar
8 - Columbus, Ohio @ Cafe Bourbon St.
9 - Athens, Ohio @ The Union
10 - Baltimore, Md. @ Talking Head Club
11 - Philadelphia, Penn. @ JR's
12 - Brooklyn, N.Y. @ The Charleston
13 - Pittsburgh, Pen. @ Howler's Coyote Cafe
14 - Asheville, N.C. @ MoDaddy's
15 - Atlanta, Ga. @ The EARL (as part of Atlanta Mess Around)

Related links:
The Black and Whites on MySpace
Douchemaster Records
Artist of the Week: Gentleman Jesse

Got a news tip for Paste? E-mail news@pastemagazine.com.