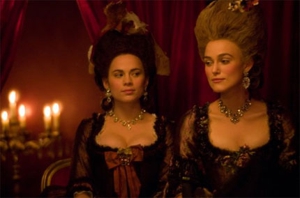 Release Date: October 10
Director: Saul Dibb
Writers: Jeffrey Hatcher, Anders Thomas Jensen, Saul Dibb
Cinematographer: Gyula Pados
Starring: Keira Knightley, Ralph Fiennes, Hayley Atwell, Charlotte Rampling
Studio/Running Time: Paramount Vantage, 110 mins.
Hollywood can't seem to get enough of Keira Knightley, treating her like some sort of thoroughbred athlete whose most productive years are right now. With the The Duchess, Knightley has now appeared in more than 20 films since her role as Amidala's handmaiden in 1999's Star Wars: Episode I - The Phantom Menace. And like a fourth-quarter tailback, the more she runs, the better she gets as she convincingly demonstrates in The Duchess.
After the Duke of Devonshire (Ralph Fiennes) selects the teen Georgiana (Knightley) to be his wife, she quickly becomes a star to the citizens of the British empire, especially with the up and coming Whig party. Everyone adores her except, apparently, her husband, who not only frequently and brazenly adulterizes, but also expects his young wife to raise the daughter of one of his now-deceased dalliances. To make matters worse, she is failing at what he deems to be Georgiana's most important role: providing the duke with a male heir. It's enough to drive a duchess to drink, gamble and dabble in a little extra-curricular romance of her own, all of which she does, sometimes to the extreme and definitely to the detriment of the duke.
Based on a true story, Knightley shines in her outrages of injustice, both in her character's personal life and in the political climate of 17th century England. As she finally goes head to head with the duke, waves of tension, fury and despair alternately pour out of the screen with two of many award-worthy performances in the film, including that of Hayley Atwell as the live-in friend and lover to both the duke and duchess.
In the end it may not be much more than a glorified, period-piece soap opera (with better outfits) that possibly could have been improved upon with more attention to the duchess' role in England's progressive new government, but with riveting performances like these, who cares?
Watch the trailer for The Duchess:
Others Tagged With