Titus Andronicus Acts Out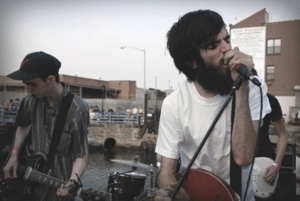 Hometown: Glen Rock, N.J.
Album Title: The Airing of Grievances
Band members: Liam Betson (baritone guitar), Andrew Cedermark (guitar, keyboard), Ian Graetzer (bass), Eric Harm (drums), Patrick Stickles (vocals, guitar, harmonica), Dan Tews (guitar, keyboard)
For Fans Of: The Replacements, The Mekons, Bright Eyes

Act 1: DEFINITIONS
"Yeah, we're punk," affirms 22-year-old Titus Andronicus frontman Patrick Stickles. But not exclusively—the band also embraces theatrical histrionics and pub-rock ramblings. "I want to play our songs as though they were punk songs," Stickles says. "It's the most intense human music; it celebrates our shared imperfections and our weaknesses."

Act 2: REVOLT
Stickles philosophizes with a savage howl, narrating absurdist tales throughout The Airing of Grievances, the group's debut full-length. The opener curses a poet who blithely watches as "the world screams out in agony"; later tracks consider judgment days, death dreams, drinking to general indifference. "Things have meaning when we assign meaning to them," Stickles says. "You know what I'm saying? Existential revolt."

Act 3: THRILLS
The band's namesake suits this peculiar guts-and-brains balancing act. Though bearing the high-minded mark of Shakespeare, The Most Lamentable Romaine Tragedie of Titus Andronicus is "basically like a slasher or horror film," Stickles says, "not that different than Saw." And it's precisely this pairing that Titus Andronicus emulates: "I had hoped that our band could find the middle ground between that kind of serious thought about the universe and the cheap thrills of seeing somebody's head get cut off—or screaming and bashing the electric guitar."

Act 4: ORIGINS
Founded in Glen Rock, N.J., as a three-piece, Titus ballooned to 11 members before settling into its current lineup of six, four of whom wield guitars. Stickles exhibits a droll self-awareness regarding the band's Jersey upbringing, channeling nostalgia for days spent causing mayhem out of sheer boredom. "To be a beautiful, young, romantic dirtbag—kind of an idealized American archetype, right?"

Act 5: RESOLVE
During a mid-summer Titus Andronicus show, a sweaty young mob screams "Your life is over!"—the central refrain of the band's eponymous track—into a breeze growing off Brooklyn's Gowanus Canal. Stickles leads the chant with his own blistered voice, the sonic assault behind him resolving into a major key's celebration. A strange profusion of smiles unfurls from participating faces and, for the moment, the band preserves its slippery balance.
Others Tagged With