Twilight movie soundtrack includes Iron & Wine, more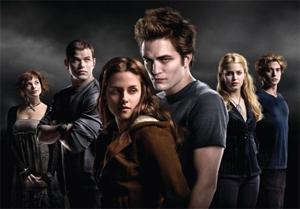 Twilight author Stephenie Meyer has made no secrets about her love of music and how certain songs and bands have played into her writing, especially Muse. Each of the books in the series have come with a playlist, posted by Meyer on her official website, and she's thanked a handful of bands in each of her credits.

Also music-loving is Catherine Hardwick (Lords of Dogtown), the film's director. It should come as no surprise, then, that the soundtrack to the first film in the series would be highly anticipated. Last week, the tracklist flooded the web and while many seem satisfied with the picks, a number of outlets (including MTV) and super-fans are a little disappointed that such a cult book series and film couldn't come up with more interesting (and less formulaic) choices.

Tracklist:
Muse - "Supermassive Black Hole"
Paramore - "Decode"
The Black Ghosts - "Full Moon"
Linkin Park - "Leave Out All the Rest"
MuteMath - "Spotlight" ("Twilight" mix)
Perry Farrell - "Go All the Way (Into the Twilight)"
Collective Soul - "Tremble for My Beloved"
Paramore - "I Caught Myself "
Blue Foundation - "Eyes on Fire"
Rob Pattinson - "Never Think"
Iron & Wine - "Flightless Bird, American Mouth"
Carter Burwell - "Bella's Lullaby"

What song would you have liked to see make the soundtrack?

Related links:
News: Stephenie Meyer drops Twilight sequel
The Twilight trailer on Apple.com
MTV.com: Twilight Tuesdays

Got a news tip for Paste? E-mail news@pastemagazine.com.

Others Tagged With