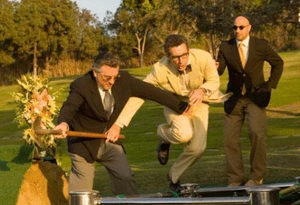 Release Date: Oct. 3
Director: Barry Levinson
Writer: Art Linson
Cinematographer: Stéphane Fontaine
Starring: Robert DeNiro, Bruce Willis, Sean Penn, Catherine Keener, Stanley Tucci, Robin Wright Penn, Michael Wincott
Studio/Run Time: Magnolia Pictures, 102 mins.

Harpooning Hollywood hijinks

Given Hollywood's proclivity for epic narcissism, it's not particularly surprising that there's such a rich history of self-satire in film, from The Player to The Kid Stays in the Picture. Barry Levinson's What Just Happened? is based on producer Art Linson's 2002 memoir (Linson's credits include The Untouchables: Capone Rising, Fight Club and Into the Wild), fictionalized here as a story about Ben (Robert De Niro), a Bluetooth-toting, fire-extinguishing producer with a fractured family, a massive SUV and a cabal of eager assistants. Ben's got all the power but no control: Bruce Willis, playing himself, threatens to shut down Ben's new film with his scraggly "Grizzly Adams beard" and 30 pounds of paunch, while studio exec Lou (Catherine Keener) insists that Ben convince director Jeremy (Michael Wincott) to transform an art-house tragedy into a blockbuster. Miraculously, Levinson (Diner, Rain Man) manages to spin familiar power plays (the studio wants something more commercial; the actor is difficult) into genuinely charming vignettes, and What Just Happened? ultimately transcends a potentially disastrous same-old-story/same-old-town conceit.

Watch the trailer for What Just Happened?:
Others Tagged With