Keira Knightley to portray Zelda Fitzgerald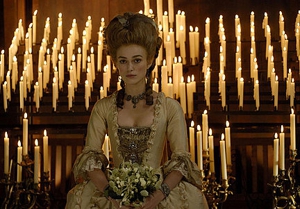 Keira Knightley is 23 years old. As in, she was born in 1985. The fact bears repeating because Knightley seems to be doing everything in her power to prove otherwise. The actress has followed up her role in the Pirates of the Caribbean trilogy with one period piece after another, culminating in the announcement she will portray Zelda Fitzgerald (wife of American luminary F. Scott) in a big-screen adaptation of novel The Beautiful and the Damned.

Let's examine the recent entires on Knightley's resume for a minute. She played 19th century heroine Elizabeth Bennet in Pride & Prejudice (for which, mind you, she nabbed an Oscar nomination); medieval queen Guinevere in the 2004 flop King Arthur; and the star-crossed lover in the World War II-set drama Atonement (a 2007 Best Picture nominee). That's not even counting this year's offerings: the just-released (though lukewarmly reviewed) biopic of the 18th century noblewoman Georgiana Cavendish, The Duchess, and The Edge of Love, a 1940s love-triangle drama between poet Dylan Thomas (Matthew Rhys), his wife Caitlin (Sienna Miller) and first love (Knightley). (Check out this fairly impressive clip from the movie of her belting "Maybe It's Because.") You'd have to go back to the little-seen 2005 thriller The Jacket, or 2003's Love Actually, to find Knightley in a role set in the present.

Not that there's anything wrong with that. The Hollwood Reporter reports The Notebook director Nick Cassavetes has signed up to direct The Beautiful and the Damned, F. Scott Fitzgerald's beloved second novel. The 1920s Jazz-age novel tells the story of a young married couple widely acknowledged to be surrogates for Fitzgerald's own marriage to his wife Zelda Sayre. All the thematic usual suspects you'd expect appear: caste systems, liquor, morality, love, decadence, etc. Knightley could easily make for a credible Zelda (on top of allowing to her done flashy, nitid flappers), but the bigger question seems to be who will play F. Scott? (James Franco came to mind, but he'll be busy playing another literary icon). Shooting is expected to begin next April.

In the meantime, Knightley will gussy up for an adaptation of Shakespeare's King Lear, alongside Anthony Hopkins, Naomi Watts and Gwyneth Paltrow. She's also rumored to be the frontrunner for the remake of the Audrey Hepburn classic My Fair Lady (to be written by the only person ever to win an Oscar for writing and acting, Emma Thompson). And low and behold, those two pics are period pieces. Shocker, right? At least she's got one project in the works which proves she's not the oldest 23-year-old on earth.

Related links:
Cinematical: Trailer for Keira Knightley's 'The Edge of Love'
Cinematical: Can we focus on Keira Knightley's performances, not her ribs?
Metacritic: The Duchess reviews

Got a news tip for Paste? E-mail news@pastemagazine.com.

Others Tagged With