Led Zeppelin to ramble on...without Robert Plant?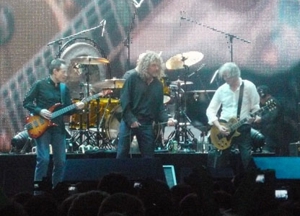 There are a million jokes we could make about a "Communication Breakdown," but in the interest of good taste let's just cut to heart of the story. Led Zeppelin, the greatest rock band to ever have a penchant for invoking Norse mythology (our apologies, Amon Amarth) is planning to go back on tour following its wildly popular reunion show last winter. And here's the catch: Robert Plant is out.

After much speculation that the surviving members of the band would reunite to tour or record new material with John Bonham's son Jason in tow, bassist John Paul Jones confirmed at a guitar show recently that the band is seeking to hit the road again, but they'll need a replacement for frontman Plant: "We are trying out a couple of singers. We want to do it. It's sounding great and we want to get on and get out there."

Plant hasn't commented on why he won't be rejoining Zeppelin, but the band seems to recognize that Plant can't exactly be replicated: "It's got to be right. There's no point in just finding another Robert." Jones explained. "You could get that out of a tribute band, but we don't want to be our own tribute band. There would be a record and a tour, but everyone has to be on board."

Will Zeppelin be Zeppelin without its frontman? Likely not, but fans will probably still have (sorry!) a whole lotta love (and ticket money) for the band.

Related links:
News: Led Zeppelin: if not a reunion, at least a ride
News: Led Zeppelin catalog goes digital
Led-Zeppelin.com

Got a news tip for Paste? E-mail news@pastemagazine.com.

Others Tagged With