Anathallo's top 5 most serendipitous Canopy Glow moments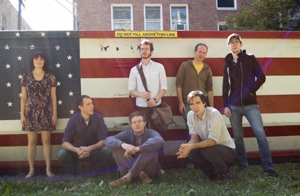 Life's best moments are often unplanned, as the seven members (and recent Chicago transplants) of indie pop collective Anathallo know. Several serendipitous finds shaped the band's forthcoming album, the delightful Canopy Glow, recorded in a church in the band's Northside neighborhood (out tomorrow on Anticon). Via email, Anathallo vocalist/guitarist/pianist and Paste contributing writer Matt Joynt shared with Paste:Local Chicago the top 5 moments that unexpectedly shaped the album.

1. The bells on "Bells"
"We moved to Chicago in the dead of winter in 2006/07 after receiving an offer to be the artists-in-residence at a beautiful old Northside church with some extra space. The people in the congregation were familiar with our music and are very supportive of the arts. So we moved in and started practicing. After a few weeks, we noticed seven large black cases sitting in the corner. Lo and behold they were filled with hand bells! In our youth, Bret [Wallin, Anathallo's trombonist/percussionist/vocalist] and I had played in the hand bell choir during Christmas services and weren't afraid to employ them on our record. We arbitrarily set them out and began working on what is now 'Bells.' Inventive title, I know."

2. The flat piano.
"We hired some joker to come in and tune the studio's piano before tracking. I remember looking through the control booth window and feeling like something was sort of strange about this feller - he fiddled around for a while, charged us too much and left. We found out a few days later that he had accidentally tuned the piano 12 cents flat. That's not an audible difference at first, but it's just enough to give you the sense that things aren't sitting together well. If you have friends making a record and they're employing the piano, throw the tuner a few dollars to do this and watch as they begin to second-guess everything."

3. The trashy beats.
"Late one night a few of us stayed at the studio with Neil [Strauch, Canopy Glow's engineer], resigned to our already-destroyed sleep habits. We made 'margaritas' (slurpees from 7-11 with a shot of vodka), laid out tons of upside down coffee cans filled with junk, ran an overhead mic through a fender reverb tank, then out to a vintage Gibson amp and tracked an unnecessary amount of garbage. But - one man's trash is another man's accidental treasure. While Neil was trying to make something cool out of our avant-idiot jam session, he accidentally subdivided the file into 27/6 time, which turned the mess into a really amazing glitch beat that we never knew the song needed."

4. The catch-phrase.
"We were all much too tense during the recording of Floating World. It became emotionally exhausting. One of our main goals in making Canopy Glow was to have fun in the studio. We didn't want to feel rushed or angry. Luckily, Neil (friend-gineer) had this amazing habit of saying 'fur sher, fur sher in a sort of nonchalant way after a bad take. It became this overriding sentiment during the making of the record. I think it was initially going to be Barack's campaign slogan, but they ended up with the decidedly square 'Yes we can!'"

5. The consoling hum.
"We wanted to use the Leslie organ at the end of 'Northern Lights,' but once we tracked it we noticed that the motor hum was insanely loud. Instead of cutting the part, we recorded the hum all throughout the song because we fell in love with the calming sound. It's sort of like that weird dehumidifier that your parents had in the unfinished basement."

Related links:
Features: Band of the Week: Anathallo
Features: 4 to Watch: Anathallo
Paste:Local Chicago: Neighborhood Spotlight: Who does River North think it is?!

Others Tagged With