Bob Wills & His Texas Playboys release 10-disc Tiffany Transcriptions box set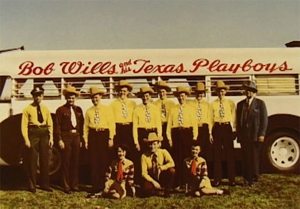 Bob Wills & His Texas Playboys are quite possibly the greatest western swing band of all time. Now, 33 years after Wills' death, Collectors Choice Music is releasing a 10-disc, 150-song collection box set, due out Jan. 27.
Although Wills and the boys pumped out quite a few classics (including "New San Antonio Rose" and "Faded Love," among many more), they were well known for Tiffany Music, Inc., the company Wills started with California disc jockey Cliff "Cactus Jack" Johnson and businessman Clifford Sundlin. The band members were the featured performers and in 1945, Tiffany Music set out to supply syndicated radio programs to subscribing stations.

The Tiffany Transcriptions are remastered content from those radio programs, gathered here in a set including remembrances from Ray Benson, Ranger Doug and Big Sandy's Fly-Rite Boys. Wills expert Rich Kienzle, who wrote the liner notes to the set, states that, "for all the great records Bob Wills & His Texas Playboys made in 1946-47 for Columbia and MGM — and there were plenty — the Tiffany sessions captured something deeper, intangible and vibrant, music that even the occasional miscue or missed note can't diminish. It represents the very soul, spirit and musical passion of Bob and the band as they really were on those Western and Southwestern bandstands. Sixty years later, it still sounds like yesterday."

The collection also includes written statements from many of the up-and-comers in Western swing. "To be honest," writes Asleep at the Wheel's Ray Benson, "without the Tiffany Transcriptions, Asleep at the Wheel would not have had the materials needed to become proficient Western swingers...which I hope we are." Riders in the Sky's Ranger Doug says, "I am honored, I am blessed, I am grateful, and I am a fan of the Texas Playboys forever."

For more details and ordering info on the set, check the Collector's Choice site.

And, as Kienzle writes in the notes: "Play it loud and listen. The magic is still there."

Related links:
BobWills.com
RockHall.com
YouTube: Bob Wills - "Sittin' on Top of the World"

Got a news tip for Paste? E-mail news@pastemagazine.com.
Others Tagged With