California's Prop 8 protests may affect Sundance Film Fest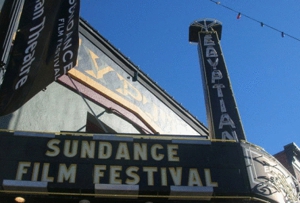 Even as the left-leaning majority in Hollywood celebrated the outcome of the presidential election, many in the industry protested the passage of Proposition 8, a ballot measure that banned same-sex marriage in California after a court ruling had legalized it last May. As gay-marriage supporters react, many have turned their attention to one of the proposal's biggest proponents, the Mormon church, and an annual fête held on its Utah doorstep: the Sundance Film Festival.

The festival has long held ground in Park City, Utah, which neighbors Salt Lake City, the headquarters of the Mormon church. After reports that church leaders had asked followers to support Prop 8, which some say amounted to as much as $15 million in campaign contributions, gay activists have questioned the church's tax-exempt status and the financial support that inevitably comes from the Sundance Film Festival. (The festival, founded in 1978, was first called the Utah/U.S. Film Festival and was created in part to spark local interest among filmmakers.)

Variety traces the boycott talk back to John Aravosis, an activist who has spoken strongly against Prop 8 and its backers. "Large donors are involved who are very interested in organizing a campaign, because I do not believe in frivolous boycotts," he said. "The main focus is going to be going after the Utah brand. At this point, honestly, we're going to destroy the Utah brand. It is a hate state."

Sundance organizers sought to minimize the festival's connection to the proposition. The "Sundance Institute was founded on the idea of championing diversity and freedom of expression," it said in a statement. "It would be a grave disappointment to us if our Festival were to be singled out for a boycott, especially as we celebrate 25 years of showcasing independent voices." The 2009 fest, set to kick off Jan. 15, will mark its 25th anniversary.

The proposed boycott has led to different proposals from both sides of the debate, with some calling for a boycott of only select Utah businesses that supported the ban rather than the entire festival. It's not clear at this point how much damage a boycott could cause, but with many high-profile Hollywood players like Steven Spielberg and Brad Pitt among the biggest contributors to fight the ban, it's not a surprise that the possibility has caused a stir.

Related links:
Festivus: Sundance Eve
Feature: Skipping the Swag Bags
News: Sundance short films on iTunes

Got news tips for Paste? E-mail news@pastemagazine.com.
Others Tagged With