Chester French releases EP, preps Feb. full-length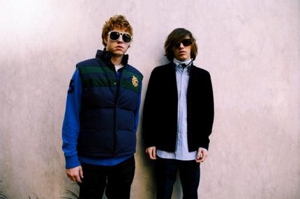 Sometimes bands are preordained for success. They just happen to be in the right place at the right time, draw attention from the right people and are embraced by the press as the next big thing. (Oh, it also helps if they're talented too). Massachusetts-based Chester French might very well be one of those bands. The duo of Harvard graduates, D.A. Wallach and Max Drummey, have enjoyed the kind of buzz last seen with the similarly hyped collegiate bands Vampire Weekend and MGMT.
After all, it's not often a band initiates a sparring war from the likes of Kanye West, Jermaine Dupri and Pharrell Williams. The band decided to sign with Williams'
Star Trak
label. The Neptunes and N.E.R.D mastermind is one of the band's most fervent
supporters
, despite the fact that they haven't released an album or EP.
Until next week, that is. Chester French's five track EP,
She Loves Everybody,
is due in stores Nov. 18 (and is already available digitally). Drawing its name from the band's '60s-pop, Motown-esque first single, the EP also includes the group's song "The Jimmy Choos." The band's biggest fans outside of Williams? HBO. Both songs have been featured on past episodes of its hit
Entourage
. Williams does his part on the EP as well, contributing a Neptunes remix of the titular track.
Both tracks will be featured on the duo's long-in-the-works debut album,
Love the Future
, which will hit stores in February of 2009. The album boasts some impressively eclectic collaborations: rapper
Talib Kweli
, multifaceted (Chinese-born) French artist
Yi Zhou
and French actress/singer
Charlotte Gainsbourg
(star of
The Science of Sleep
, amongst other roles).
The album is a collection of the duo's diverse musical influences, from hip-hop to rock, swing to jazz, Motown to country. And the types of instruments featured span from the usual suspects (guitar, keyboards) to the not-so-usual (French horn, theremin, timpani). But they stress
Love the Future
will work as a cohesive statement, rather than just a bunch of different musical genres and singles strung together. "We try to be as open as possible. There's not a single genre of music we discriminate against. We just hate shitty music," Drummey said in a recent statement. "What we tried to do is make something musically diverse but also unified. And we did the best job of that ever in the history of music." Confidence is key, right?
Listen to Chester French's "She Loves Everybody":Related links:
Chester French on MySpace
ChesterFrench.com
Rolling Stone Artist to Watch: Chester French
Got a news tip for Paste? E-mail news@pastemagazine.com.
Others Tagged With