Duncan Sheik talks Whisper House, covers album, more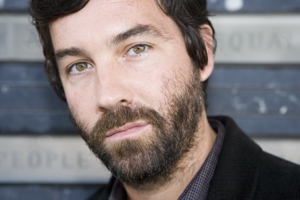 Only two years after including "I Don't Believe in Ghosts" on the remix-friendly White Limousine, Grammy-nominated songwriter Duncan Sheik is already singing a different tune about spirits. His stage follow-up to Tony-adored rock musical Spring Awakening tells the story of a boy who's surrounded by them.
"There's a young boy named Christopher," Sheik explained shortly after
his performance
in the
Paste
office last week. "It's WWII and his father is shot down over the Pacific and his mom is sent to a sanitarium. And so he is sent to live with his aunt Lily in a lighthouse in Maine. The lighthouse seems very spooky, and there are many ships that have crashed off the shore, and the names of the people who died in the vicinity of the lighthouse are on these plaques in the lighthouse. So the boy comes to believe the the lighthouse is haunted when he hears ghostly music. And he believes that the lighthouse is haunted by these musician-ghosts who sing all the songs to him."
The play,
Whisper House
, is the brainchild of director
Keith Powell
, best known for his role as
TGS
staff writer Toofer on NBC's
30 Rock
. As Sheik told it, "the whole thing was Keith's idea. He said, 'I want to do a play that involves ghosts and lighthouses, and I want you to write the music for it.'" Soon librettist Kyle Jarrow was brought on board and the three went down to Charleston in January to write the bulk of the songs. One of them, "Earthbound Starlight," serves as a prologue, and Sheik speculated that an animation of the song narrating the show's developing premise might start off the action when
Whisper House
hits the stage. "Multimedia," mused Sheik, "it's always good, I guess."
But fans won't have to wait for the April opening to hear all the tunes. After the 10-day Charleston retreat, Sheik recorded the songs. To his surprise, Sony and Victor Records showed interested in releasing them. "I actually didn't mean for this to be the next Duncan Sheik record," said the songwriter. "It's just, I made the demos, and then everyone said, 'Oh, this is your next record, so now we're putting it out as the next record.' And that's just what happened."
Whisper House
is set for a January 2009 release.
On his current tour, Sheik carries with him female vocalist
Holly Brook
, who will likely become a
Whisper House
cast member alongside Sheik-collaborator
David Poe
on the male part. But even as the show reaches fruition, Sheik's other projects continue to see the light of day. The tour EP includes a rendition of the Psychedelic Furs'
oft-covered
"The Ghost In You," a hint of Sheik's upcoming covers album, which will also include music by Depeche Mode, Tears for Fears, The Smiths, New Order and the Thompson Twins. "It's all music from the '80s that was nominally kind of synth-pop, but it's recorded in these very, very kind of even more miserable, sad acoustic versions," Sheik said. (So perhaps he hasn't changed
completely
from 1996's pop smash
"Barely Breathing"
after all.)
For
Spring Awakening
fans, Sheik spilled some details about his new collaboration with project partner Stephen Sater,
The Nightingale
, based on a Hans Christian Anderson fairy tale. Even though he admits that it's more chamber piece than rock musical, he assured devotees it wasn't such a radical shift as all that. "It won't be surprising for anybody who's heard
Spring Awakening
in terms of the music," Sheik said.
Nightingale
is scheduled to open in September 2009 at San Francisco's American Conservatory Theater.
So why all the play-action for the songwriter? "The truth is, I really like narrative," he said, "and I like the relationship of music to narrative. Whether it's in a theatrical context, or a filmic context. It could be a CD with a book for all I care. It's just I like the idea of songs helping to tell a story, and having the story really helping the songs to become more emotionally resonant. I realize that's one of the things I'm passionate about, that I enjoy."
And while he thinks the future likely holds "a record that's just a collection of songs," Sheik's happy with his current world of work. "For the time being," he said, "I'm really enjoying the process of working with story and seeing how that can broaden the palate of what songs might be."
Related links:
A/V: Duncan Sheik plays the Paste studio
Feature: Duncan Sheik: Fixing It in the Mix
DuncanSheik.com

Got news tips for Paste? E-mail news@pastemagazine.com.
Others Tagged With