Ennio Morricone scoring Inglorious Basterds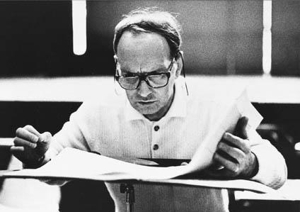 For his past two movies, Kill Bill and Death Proof, Quentin Tarantino appropriated some of the music by noted film composer Ennio Morricone. No actual collaboration ever occurred, even though Tarantino was requesting that people write Morricone-esque music for his next film. It's not like this was the first time he'd tried for Morricone, either, since the Italian composer refused to work on Pulp Fiction.

But now, word comes that Morricone has finally accepted Tarantino's request for collaboration. Variety reports that the composer will be writing the music for Inglorious Basterds, though he may not have time to score the entire film. "Tarantino will finish shooting the film in February and has to deliver it by the end of April in time for Cannes," said Morricone. "That doesn't leave me enough time to do the music. Either I start working on it before he stops shooting--after we discuss it together--or I just can't do it."

Morricone is one of the few film composers who doesn't simply write the melodic lines and the underlying chords, but, like Bernard Hermann and John Williams, he writes out the full orchestration. This leads to the depth of his scores, featured most famously in Sergio Leone's Dollars Trilogy, but also a pace that can't be rushed, even though Morricone has often scored four or five films in a year. The composer notes that this may mean, "[he] might end up just writing a couple of tracks."

Given Tarantino's penchant for using pop music, just a couple of tracks may be ideal. This news also shows how serious Tarantino is about his premiere date. Let's hope he decides to give the movie the production time it deserves and doesn't trim corners in music or elsewhere for its final cut.

Related links:
News: Perplexingly retitled Inglourious Basterds begins shooting
News: Casting continues for Tarantino's Inglorious Bastards
Review: Grindhouse

Got a news tip for Paste? E-mail news@pastemagazine.com.

Others Tagged With