Guns N' Roses serves up free Chinese Democracy, Dr Pepper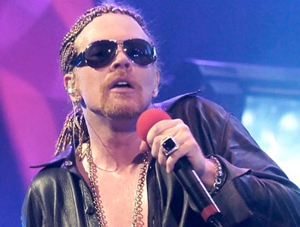 Guns N' Roses' long-awaited followup to 1993's The Spaghetti Incident occupies a special spot in our pop culture collective unconsciousness - a piece of art whose creation story is so well known that it's impossible to disconnect the history from the actual product being offered. Regardless of whether it's actually any good, Chinese Democracy's fate has already been written: like a glam-rock Ozymandias, it stands as a towering monument to cost-be-damned tenacity, crushed expectations, and the sheer force of Axl Rose's ego.

But why wait? The three days between now and what is surely the first sign of the End Times seems like a yawning gulf after nearly two decades of false starts, the departure of every original member of the band, and the theatrical arrest of a music pirate. So, Axl Rose & Co. have decided to stream Chinese Democracy for free on GNR's MySpace. It'll be available, Buckethead and all, until the album is released for reals this Sunday, Nov. 23.

In related news, you might remember that Dr Pepper promised a free can of their product for Americans coast to coast if GNR released Chinese Democracy before the end of 2008 (think Hoover, but with high fructose corn syrup). Not one to back down, the good doctor is following through on the promise (although we still seriously doubt their medical qualifications). The only catch is that you have to register on DrPepper.com and print out a coupon, which you can then turn in anywhere D-P is sold for a free 20 ouncer. The coupon is only available on November 23 and expires February 28.

Seventeen years. Thirteen million dollars. One can of soda. Chinese Democracy.

Related links:
News: Chuck Klosterman writes 1,700 words on Chinese Democracy
News: Guns N' Roses' Chinese Democracy gets release date
GunsNRoses.com

Got a news tip for Paste? E-mail news@pastemagazine.com.

Others Tagged With