Is Yo La Tengo releasing a new album?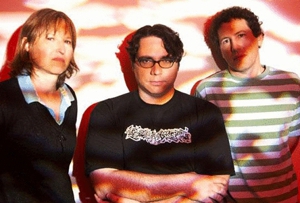 Of the many roles that Pitchfork Media has come to serve in the world of independent music, the sleuthing Sherlock hasn't always been a central one. But it turns out they've got some game when it comes to stitching together evidence. This week, the site presented a case for the Internet jury, pointing toward a new album from legendary New Jersey trio Yo La Tengo. It would be their first since 2006's wondrous I Am Not Afraid of You And Will Beat Your Ass.
In an attempt to help Pitchfork's legal team lock down this case, let's look at the facts. Back in 1990, the band released its fourth album,
Fakebook
, on Bar/None Records. On March 10, Matador Records will release an album called
Fuckbook
from a band called Condo Fucks.
Objection? Let's see where this is going, counselor. Members have
previously performed as Condo Fucks
. And they have a history of getting creative with side project names besides, with the Georgia Hubley/Ira Kaplan husband-and-wife
Sleeping Pill playing Terrastock 7
this June.
No, the prosecution DOES NOT REST, Your Honor. Because an advance from
Fuckbook
, "What'cha Gonna Do About It?" made it onto Matador's
Intended Play
sampler and doesn't, you know,
not
sound like Yo La Tengo. Also, it seems unlikely that on
a list
including big names like Lou Reed, Mogwai, Pavement and Belle & Sebastian, there would be a band
without a MySpace
.
Matador has refused to give testimony. Ira Kaplan has refused to give testimony. So we'll put some
Paste
paralegals on it and see what hard facts we can gather.
Until then, enjoy those famed Hanukkah shows (and the New Years Eve one, too).
December
21 - Hoboken, N.J. @ Maxwell's
22 - Hoboken, N.J. @ Maxwell's
23 - Hoboken, N.J. @ Maxwell's
24 - Hoboken, N.J. @ Maxwell's
25 - Hoboken, N.J. @ Maxwell's
26 - Hoboken, N.J. @ Maxwell's
27 - Hoboken, N.J. @ Maxwell's
28 - Hoboken, N.J. @ Maxwell's
31 - Montclair, N.J. @ Wellmont Theatre (w/ the Feelies, Vivian Girls)
Related links:
Yo La Tengo on MySpace
Feature: Yo La Tengo - Happier in Hoboken
A/V: Yo La Tengo - Quick Hit from ACL
Got news tips for Paste? E-mail news@pastemagazine.com.
Others Tagged With