Jack Black steps into title role of Gulliver's Travels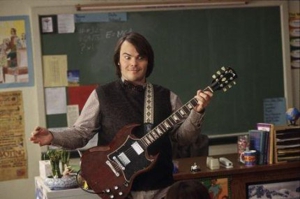 There has been perhaps no better match between a comedian and a project this decade than with Jack Black and School of Rock. Sure, Will Ferrell's been memorable in a number of things, like Old School and Elf. Vince Vaughn was funny in Wedding Crashers, but his wisecracking motormouth shtick has since grown tiresome. Bill Murray found the role of a lifetime in Lost in Translation, but the film was more of a melancholic meditation on life and loneliness than a full-blown comedy. For our money, Black's infectious and warm performance in Richard Linklater's film is simply pure, unadulterated brilliance. Anyone who can make the cello joke at the two minute mark work deserves our praise. (Let's just pray the proposed sequel doesn't taint it.)

We say this because whenever Black announces a new project, there's always the hope he can hit the same heights he did in School of Rock [Editor's note: Or, High Fidelity!]. Sure, he was the best thing about the sweet but formulaic Nacho Libre, he awkwardly romanced Kate Winslet in The Holiday and he stretched his dramatic legs in King Kong and Margot at the Wedding, but he has yet to find that true vehicle that capitalizes on his talents.

Maybe his recently announced adaptation of Gulliver's Travels will be the one. In a spin on the classic story by Jonathan Swift, Black will play a travel writer working in the Bermuda Triangle and unexpectedly finds himself washed on shore of an island where he is seen as a giant. Shark Tale director Rob Letterman will be behind the camera, while Forgetting Sarah Marshall director Nicholas Stoller will co-write the screenplay with Shrek scribe Joe Stillman. The shoot is scheduled for March 2009.

Until then, Black has his Judd Apatow-produced comedy The Year One, alongside Michael Cera, due next summer. Sequels to School of Rock and Kung Fu Panda are still in the works.

Related links:
News: Jack Black returns for School of Rock 2
Review: Tropic Thunder
Review: Kung Fu Panda

Got a news tip for Paste? E-mail news@pastemagazine.com.
Others Tagged With