Update: Ron Howard confirms Arrested Development movie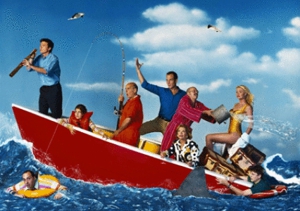 During a press junket for Universal's upcoming Frost/Nixon, Ron Howard told Maxim that the much-ballyhooed Arrested Development movie was, in fact, on its way to the silver screen.

"I think it's looking very promising," said Howard. "We're still just lacking that one thing we need: a script." He also confirmed that Mitchell Hurwitz, who created the Emmy-winning series, would direct the movie.

Watch the video of Maxim's interview:


-----
For dallying so long in the realm of is-it-ever-happening, the movie version of canceled cult show
Arrested Development
has been called the
Chinese Democracy
of film, the
SMiLE
of comedy, the
Juneteenth
of adaptations. (Actually, it's never been called any of those things before. But it should have been. And actually, it kind of now has.)
New promises! That's the theme of today. A chicken dance in every room! A stair car in every driveway! We've played with the heartstrings of fans for months, reporting when
rumors
began to emerge, then when Jason Bateman and David Cross
said yes
, then when Michael Cera
scoffed
at the idea.
But now
Arrested
patriarch Jeffrey Tambor has lit the fire once again, telling
Collider.com
that he wasn't tired of talking about if the movie would happen because
the movie was going to happen
. "[W]e're doing it," Tambor told host Steve Weintraub. "We are going. It's a go. I just actually this week talked to [writer/creator] Mitch Hurwitz, so we're doing it."
Tambor didn't know much about details, but he told Weintraub that "when the writer calls you, the director and the executive producer calls you, it's a pretty good sign." So while we wouldn't bet the farm on it, his own certainty gives us reason to hope that this news is change we can believe in.
Related links:
News: Update: Arrested Development movie plans progressing
News: Arrested Development film officially in the works
High Gravity: Best Sitcoms Since 1980
Got a news tip for Paste? E-mail news@pastemagazine.com.
Others Tagged With