Live Photos & Review: Atlanta Mess-Around, Day 2 (Gentleman Jesse, NOBUNNY, Hex Dispensers and more) @ The Earl 11/15/08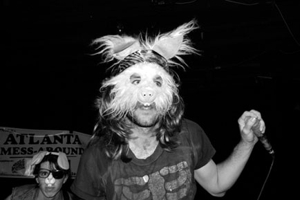 Page 1 of 2
[Above: NOBUNNY plays the second night of the Atlanta Mess-Around.]
Like
Day One of the Mess-Around
, Day Two got off to an unusually early start for
the Earl
. But despite numerous warnings the previous evening that Saturday's festivities would get underway promptly at half past eight, the crowd was still unfortunately thin as Oxford, Mississippi's
The Black and Whites
kicked off the festival's second, poppier night.
The Black and Whites' full-length
Douchemaster Records
debut is a scattershot mixture of straight-ahead power pop and blasts of punk energy. And their set Saturday, which featured Rich Crook (Lover!, Reatards, Knaughty Knights) on drums, followed sui
t—though it became obvious that, while the Black and Whites are an exceptional power pop band, they're only a thoroughly average punk band. Fortunately the band focused on its more melodic tunes, accounting for a solid set and an appropriate lead-in for Lover!
Hailing from the same fertile Memphis womb that brought us the sounds of Jay Reatard, Lost Sounds and so many more like-minded acts, Lover! continued the night's pop-oriented groove. Backed by two Black and Whites, Crook shouted out several infectious jams, barely looking out from under his cap. Speaking of infectious, the hilarious
"Booger in My Asshole"
is precisely that.
Others Tagged With