Live Photos & Review: AIDS Wolf, Vera Fang, Thy Mighty Contract @ The Earl 11/6/08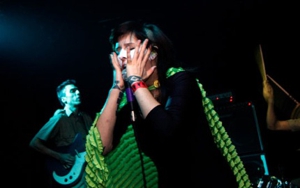 [Above: AIDS Wolf's Chloe Lum]
It would be easy to call last Wednesday at the Earl a theme night: All three bands were intentionally loud and messy, all three led by female singers (none of whom played an instrument, the star-shaped tambourine wielded by Vera Fang's Zopi Kristjanson) and all three women gripped the microphone alone and howled into the audience. But that's where the similarities stopped.
[Thy Mighty Contract's Lindsey Harbour]
The two Atlanta bands opening the night,
Thy Mighty Contract
and
Vera Fang
, had more alike with one another than either did with Montreal's
Aids Wolf
. Thy Mighty Contract frontwoman Lindsey Harbour broke up long stretches of determined yelling with the occasional sweet melody, her backing band punctuating it all with compelling unison guitar and bass parts. Sometimes these duets, backed by frantic drumming, rose ear-splittingly, uncomfortably high. This urgency contrasted with Harbour's demeanor: She seemed nonchalant, her expression remaining impassable except for the occasionally almost-smile. The five-piece-- made up of members of Southeast acts Blame Game, Fagstatic, The Orphins, Narcolepsy, Gold Standard and I Would Set Myself On Fire For You-- displayed an impressive level of confidence, one appropriate for a young Atlanta post-punk supergroup.
[
Above: Vera Fang's Zopi Kristjanson
]
Vera Fang followed and, as befits the name, seemed designed to stun. The band started quietly, Kristjanson tapping her tambourine insecurely for a moment before being overtaken by a wave of feedback and wailing guitar distortion. It was a wall of sound with her voice meshing into the middle, lyrics indistinguishable, acting as much as an instrument as Sunni Johnson's moving bass, Jeff Cook's screeching guitar and Shane Patrick's feverish drumming. The vocal thread couldn't be extracted from the sonic tapestry.
[
Above:
Vera Fang's
Sunni Johson
]
They rocketed through a short set, still fresh off the release of their Conscumption 7-inch and Zebra Dunn CD-R, and well-rehearsed thanks to the frequent shows they've been playing around Atlanta. Kristjanson made eye contact with crowd members, hollered, crouched forward, got on the floor. Then, all too soon, it was over.
As abrasive as the first two acts had been, nothing compared to AIDS Wolf. Lead singer Chloe Lum sported a black body suit, face paint and full green-fringed cape, each wardrobe piece upping her in-your-face factor. She pursued this further by getting into the audience, leaning on people as she wailed atonally, wrapping them in her microphone wire and pushing the crowd around in an attempt to induce moshing. And by the end of the set, she'd somewhat succeeded.
Others Tagged With