Live Review & Photos: Deer Tick @ Southpaw 11/8/08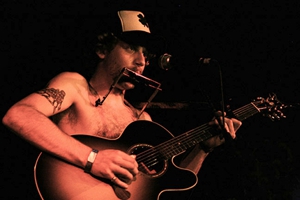 On the last warm Saturday night of 2008, the kids came out in Obama T-shirts and knotted neckerchiefs to Southpaw to catch one of Deer Tick's two NYC shows in five months. After an energetic performance by Those Darlins—a neo-Southern rock outfit fronted by three girls whose combined ages might crack the age of their apparent idol, Lucinda Williams—the crowd erupted into shouts when Deer Tick, in all their lumberjack-plaid glory, joined the Darlins on stage for a rollicking old time jam about a chicken bone.
Given the auspicious start and a promise from McCauley for an "ambitious" set, I had high hopes. But as Deer Tick plucked through songs from their 2007 debut
War Elephant
and some unreleased material, it felt like the night was happening in reverse: finale up front, "soundcheck song" and semi-painful "new material" at the end. Everything was in place for a transcendent show: great songs, beautiful high harmonies, a virtuosic lead guitarist whose bluesy flourishes talked to you, and a lead singer who, during the second song, peeled off his vest and performed the rest of the set in only jeans, guitar strap, trucker hat and a wristband. But something was missing.
I blame it on a broken guitar string. Just after
"Smith Hill," a slow-rocking porch-glider about sweethearts and $50 bills,
McCauley popped a string on his baby blue Fender Mustang. This was the moment I think I was actually bitten by a deer tick. After McCauley strapped on his acoustic guitar and a neck-mounted harmonica, he addressed the crowd: "I have nothing funny to say. I'm usually wasted when I play. I'm not funny when I'm sober." Everyone laughed, then shushed each other as the Dylan-esque "A Song About a Band" begun. And I scratched my arm, thinking, "Dear John, you gorgeous, talented thing-- next show, have a drink or five."
Others Tagged With