Los Campesinos! and Titus Andronicus plan joint tour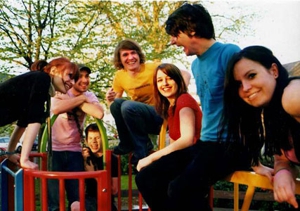 A U.S. tour for Best of What's Next laureates Los Campesinos! was more a question of "when" than "if." Not ones to be content with a simple throwaway tour, they've pulled the proverbial stops out by tapping kindred punksters Titus Andronicus to join them for a passel of dates, possibly making this the best selection of a partner in at least two months.

Yes, the Welsh wizards will be touring in support of We Are Beautiful, We Are Doomed, and they'll be joined by none other than Glen Rock, New Jersey's finest. The bands will form up like Voltron (Los Andronicus? Titus Campesinos?) for a monthlong leg of the tour, in advance of the reissue of Titus Andronicus' debut album The Airing of Grievances.

The combined tour begins in mid-January and ends with a two-nighter in New York that kicks off on (wait for it) Valentine's Day!

January
15 - Baltimore, Md. @ Ottobar
16 - Carrboro, N.C. @ Cat's Cradle
17 - Atlanta, Ga. @ The Earl
19 - Jacksonville, Fla. @ Jack Rabbits
21 - Tallahassee, Fla. @ Club Downunder
24 - Nashville, Tenn. @ Exit-In
25 - Memphis, Tenn. @ Hi Tone
27 - New Orleans, La. @ One Eyed Jack's
29 - Houston, Texas @ Walter's On Washington
30 - Austin, Texas @ The Parish
31 - Dallas, Texas @ Club Dada

February
3 - Lawrence, Kan. @ The Bottleneck
4 - St. Louis, Mo. @ The Gargoyle
6 - Madison, Wisc. @ Der Rathskeller
7 - Chicago, Ill. @ Logan Sq. Auditorium
10 - Grand Rapids, Mich. @ Calvin College Ladies Literary Club
11 - Columbus, Ohio @ Wexner Center for the Arts
12 - Swarthmore, Pa. @ Swarthmore College Olde Club
13 - Boston, Mass. @ Paradise Rock Club
14 - New York, N.Y. @ Bowery Ballroom
15 - New York, N.Y. @ Bowery Ballroom

Related links:
Feature: Titus Andronicus Acts Out
Band of the Week: Los Campesinos!
LosCampesinos.com

Got a news tip for Paste? E-mail news@pastemagazine.com.

Others Tagged With