Terrence Howard's Iron Man 2 shut-out angers fans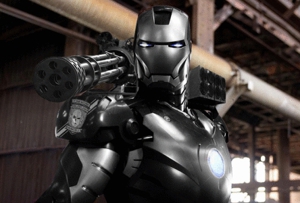 It still isn't clear why it happened—money, many say—but Marvel's decision to replace Terrence Howard with Don Cheadle in Iron Man 2 has sparked a minor revolt among fans of the new series.

Howard's role in the original
Iron Man
was limited, though in the film's sequel-baiting final scenes, the character he played—Colonel James "Rhodey" Rhodes, AKA War Machine (pictured)—is
foreshadowed to become
Iron Man's sidekick. Replacements in major franchises are not uncommon, as fans of Batman saw this summer when Maggie Gyllenhaal filled in for Katie Holmes in
The Dark Knight
.
But some fanboy sects, who cherish nothing if not brand loyalty, have launched a campaign to protest the casting change, widely believed to have more to do with business than with creative issues. The site
HowardNotCheadle.com
is one manifestation, which laments that Marvel "thinks just any person can play" the character. "They are sadly mistaken," the site reads, before a link to a petition to Marvel in protest of the move.
Cheadle, to be sure, is not just anyone—he's at least as accomplished an actor as Howard, with prized roles in films like
Hotel Rwanda
and
Crash
in his recent past. But Howard has publicly echoed and perhaps bolstered the fans' message, saying the news had come to him from a third party without warning. "It was the surprise of a lifetime," he told NPR. "There was no explanation, [the contract] just up and vanished."
Contracts in Hollywood, he said, "aren't worth the paper that they're printed on sometimes."
A reversal from Marvel, of course, is unlikely, especially since the web grumbling is muted as far as gross-roots campaigns from fans go. Besides, with Robert Downey Jr. set to return for at least two
Iron Man
sequels and a swift effort to put the next movie in theaters by May 2010 underway, the complaints will no doubt be short-lived.
Related links:
News: Marvel links with Paramount; Iron Man 2, more on way
News: Iron Man 2 to begin production soon, or maybe not
Review: Iron Man
Got news tips for Paste? E-mail news@pastemagazine.com.
Others Tagged With