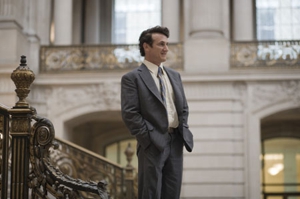 Release Date: Nov. 26
Director: Gus Van Sant
Writers: Dustin Lance Black
Cinematographer: Harris Savides
Starring: Sean Penn, Emile Hirsch, Josh Brolin, Diego Luna, James Franco
Studio Information: Focus Features, 128 mins.
Today, Harvey Milk is remembered as a local hero in San Francisco, and Sean Penn's joyful, deeply layered portrayal in a new biopic by Gus Van Sant gives us a pretty good idea why. Harvey was the first openly gay person elected to public office in the U.S., and he served on San Francisco's board of supervisors until he and mayor George Moscone were shot and killed by a fellow supervisor, Dan White, in 1978. But the lasting image of the film isn't a gunshot or a riot but the ear-to-ear grin that tops Penn's compact, gesticulating frame.
All films reflect the times in which they were made, but Milk seems especially infused with the present. Van Sant stages much of the action in the Castro district of San Francisco, whose storefronts—dressed in 1970s signage—create a frank and vibrant harmony of past and present. And, of course, the scenes in which Milk rallies the neighborhood to defeat a ballot proposition that would fire gay teachers are now hanging in the shadow of California's recently passed ballot proposition that restricts gay marriage.
It's a story with as much failure as success, and Harvey Milk, in his life and legacy, remains a symbol of both triumph and ongoing struggle.
In some ways, Van Sant has been making this film for decades. From Mala Noche to Paranoid Park, his films often revolve around a tragic death. They don't revel in the violent event itself but grope in the sensations and senselessness that surround it. Milk is certainly Van Sant's most conventional film in years and may disappoint fans of his recent experiments, but it benefits from the long, slow ramp-up that began with Elephant, his 2003 film about a Columbine-like massacre. Van Sant borrows a few seconds of that film's gliding, back-of-the-head iconography to follow White—gun on his person—toward Milk and Moscone, but more importantly, he takes a similar approach to the psychology of the characters.
Elephant systematically touched and moved past the various knee-jerk diagnoses that we saw on television, throwing up a smorgasbord of possible causes, from video games to Nazi paraphernalia, but then staunchly refusing to commit to any one explanation for the shootings. The real world isn't simple. And in Milk, Dan White's motivation is anybody's guess. We see hints of domestic pressures, latent homosexuality, public humiliation, political failure, and overindulgence in junk food, but Van Sant again doesn't pretend to know what caused White to snap (and he wisely resists the temptation to visualize the so-called "Twinkie defense"). And Milk himself is a complex person who alternately flounders and shines in a sea of chaos.
And that's part of why this biopic is an uncommonly graceful iteration of a genre that usually reduces personalities to bumper stickers. Milk doesn't look inside the hearts and minds of its characters; it just looks at the outside, the smiles and tears, and lets us take it from there.
Watch the trailer for Milk:
Others Tagged With