Murs: Murs for President
[Warner Bros. Records]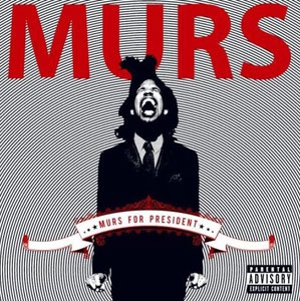 A West Coast veteran enters the race.

"Don't ever let the fact that you can't be perfect stop you from doing your best," pleads Murs on "I'm Innocent," Murs for President's first track. "At least I'm trying." And try he does. In his freewheeling major label debut, Murs stays consistent by retreading old turf like racism, love and rap's artistic bankruptcy.
Murs flips conventional wisdom for most of his run for hip-hop's White House; the album's refreshing lean toward everyman appeal is the antithesis of 2008's bloated horde of superstar collaborations. The whole edges out the parts' sum even with syrupy numbers like will.i.am's Green Hornet-sampling "Lookin' Fly." Snoop Dogg's turn on the otherwise brilliant "Time is Now" is equally forgettable, especially swaddled in Niggarachi's electrifying gospel-stomp beat.

The lows mostly highlight Murs' dexterity as emcee: "I'm anti-thug / anti-drug / brought peace to the party / and got anti-love." Crisp production from whiz kid 9th Wonder and up-and-comer Nottz keeps the album punchy and addictive, like the funk-soaked "Road is My Religion" and soulful closer "Breakthrough." Murs for President isn't the most perfect campaign, but it's more than worthy of being on the ballot.

Listen to tracks from Murs for President on Murs' MySpace page.

Others Tagged With