Sean Watkins and Jon Foreman form Fiction Family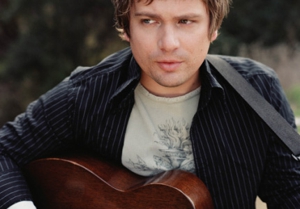 When Nickel Creek said farewell (for now) to fans and disbanded in 2007, each member said they wanted to pursue solo projects. Vocalist and mandolin virtuoso Chris Thile went off to work with his group the Punch Brothers, where he recently composed a four-part, 40-minute suite entitled "The Blind Leaving the Blind" that features mandolin, violin, banjo, guitar and bass. Singer/violinist Sara Watkins is prepping her long-in-the-making solo album (due in early 2009), produced by Led Zeppelin member John Paul Jones and featuring guests Jon Brion and Gillian Welch.
Last but not least, guitarist/vocalist
Sean Watkins
(Sara's older brother) has collaborated with Jon Foreman, lead singer of Switchfoot, for a band that goes by the name
Fiction Family
. The duo's self-titled will be released Jan. 20, 2009 via ATO Records. Sara Watkins will lend her fiddle to an undisclosed number of songs.
Watkins and Foreman met at a communal concert in 2005, and discovered they are neighbors in San Diego. Since then, the two have been plugging away at the record bit-by-bit. "The album was recorded and written in parts," Foreman said in an
interview
with
Spin
. "Because Nickel Creek and Switchfoot are both hard working, touring acts, we were rarely home from tour at the same time. Consequently the tracks were passed back and forth between Sean and I. Whoever was home from tour would chip away at the songs with no real expectations at all, mainly just for ourselves and for the love of the song I suppose. We came up with a few cowboy rules for the project: No double tracking. No pussyfooting. No tuning of vocals."
The full tracklist:
1. When She's Near
2. Out of Order
3. Not Sure
4. Betrayal
5. Elements Combined
6. War in My Blood
7. Throw It Away
8. Closer Than You Think
9. Please Don't Call It Love
10. Mostly
11. We Ride
12. Look For My Baby

Listen to Fiction Family's "When She's Near":
Got a news tip for Paste? E-mail news@pastemagazine.com.
Others Tagged With