O'Death crushes out on R. Kelly, plays two Chicago shows this weekend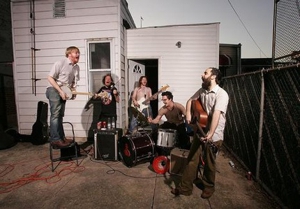 We were curious about what springs to mind when the New York City-based, Appalachian-tinged folk-punk rockers of O'Death think of Chicago. When we posed this query to the band, drummer David Rogers-Berry (who likes to beat his skins with chain links and other unusual noisemaking apparatuses) immediately took the baton and jotted down his five favorite R. Kelly-affiliated songs. Apparently, there's no irony here: He and the band claim mad, earnest love for the Chicago-based R&B superstar.

Rogers-Berry's picks:
1. R. Kelly, "Real Talk"
2. Ron Isley aka Mr. Biggs, "Busted"
3. R. Kelly, "Bump 'N Grind"
4. Aaliyah, "One In A Million"
5. R. Kelly, "Step In The Name of Love"
Take a listen for yourself:
We're not sure if you will hear any of these covered during O'Death's shows at Empty Bottle on Saturday and at Hideout on Sunday, but you can expect a spirited, manic set with who-knows-what serving as beatmakers. Bring your own bump n' grind.
Related links:
Rock Plaza Central tours it up with O'Death
O'Death announces new North American tour
O'Death tours, works on new album for fall
Others Tagged With