Patterson Hood and DBT release "election week gift" song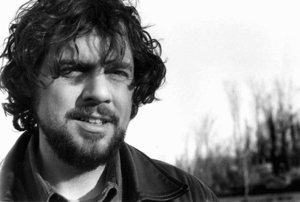 Eight years after co-founding the Drive-By Truckers during Bill Clinton's re-election bid, Patterson Hood found himself diving headlong into Bush II's second go-round. He was not happy. "I was in a state of semi-shock and near-depression as my daughter's birth was impending," wrote Hood in an e-mail statement, "and I was depressed to think of her born into the world during a Bush Presidency."

So what did he do? What musicians do when the doing is rough: He wrote a song. One week after the 2004 election, Hood gathered in a studio with his father (David Hood of the Muscle Shoals Rhythm Section) on bass, producer David Barbe on organ and Truckers John Neff and Brad Morgan on electric guitar and drums.

Yesterday, DBT released the product of that session. Over a slick funk vamp, Hood speak-sings the story of Uncle Phil and Aunt Phyllis, who met as protesters way back when before growing into familiar archetypes of middle-class surburbia. The two moved to Florida during the "zany Jimmy Carter years" and "retreated into an abyss of New Age religion and philosophy" when Reagan was elected in 1980. But then they stopped speaking when Phil "voted against the Mondale ticket," began listening to talk radio and put a "W" sticker next to the NRA one on his Don Henley-blasting convertible.

And the best lyric of all? "She once got so worked up watching Clinton speak that she defied her menopause and began menstruating uncontrollably for 16 days straight. She ended up in the emergency room in the National Enquirer. For Phil, all of this is just proof that the end is near. And good riddance." The song ends with the woman eating Xanax-filled casserole to attempt to sleep until 2008. Naturally.

Extend the storyline, and Aunt Phyllis should wake up to smell the ballot box by, well, today. For that matter, Hood's hoping everybody does. "I am throwing this out as my election week gift to you," he wrote. "Please get out and vote."

So listen to "Uncle Phil and Aunt Phyllis in the Month After the Election" on the Drive-By Truckers MySpace page (or download the track via the band's official site). Go see DBT tour with the Hold Steady. And for the love of Hood (and Aunt Phyllis), get out and vote.

Related links:
Feature: The Rise, Fall and Redemption of the Redneck Warrior Poets of Rock 'n' Roll
DriveByTruckers.com
Review: Drive-By Truckers - Brighter Than Creation's Dark

Got a news tip for Paste? E-mail news@pastemagazine.com.

Others Tagged With