Patton Oswalt lusts for John McCain book, blogs election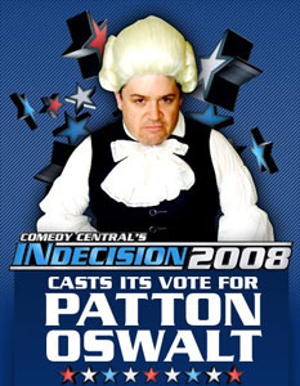 Patton Oswalt is known for his comedy, not his politics. But on his website last week, the Comedians of Comedy founder noticed, perhaps presciently (and with a surprisingly small amount of tongue in his cheek), the subject of America's next great political novel: John McCain.

Having just read James Ellroy's American Tabloid and The Cold Six Thousand, Oswalt traces McCain's path from the 2000 primary to his current presidential bid, bringing in Oswalt's own experiences with seasoned and hack-y headliners on the comedy circuit to argue what happened and why it's perfect literary fodder.


But McCain, someday, is going to make a great novel. He doesn't want to be a part of it, but it'll be one of the most readable things to come out of this dark spiral we've been going through for eight years. And worry - the spiral isn't terminal. At the last minute - just like America's always done - we'll pull ourselves away from the spinning blades. There's going to come a day when we won't. That day isn't now.

So, Obama's going to win.

But all I can think of is McCain.

Read Oswalt's full post
here
.
But if you're like many today and are too nervous to think about things that haven't been written yet, there's always the good ol' present to fret over. Starting at 7:30 p.m. EST, Oswalt (and friends) will be
liveblogging the election results
for four hours on Comedy Central's Indecision2008 site.
Related links:
News: Patton Oswalt gives graduation speech to alma mater
Feature: Five Reasons You Should Care About Zach Galifianakis
PattonOswalt.com
Got news tips for Paste? E-mail news@pastemagazine.com.
Others Tagged With