Pretenders in Chief: Paste Casts the Presidents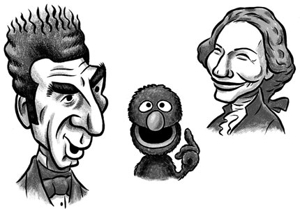 Page 1 of 5
When we learned Josh Brolin would be playing George W. Bush in Oliver Stone's new film W., we were inspired to cast actors to portray some other American presidents. The rest, as they say, is history.


George Washington - Cate Blanchett
The strange androgyny, the regal presence, the translucent skin-- it's as if they were separated at birth!



James Madison - Woody Allen
Madison outlived all of the founding fathers, and Allen has outlasted most filmmakers of his generation. Also, Madison's wife, Dolley, was 17 years his junior.



James Monroe - Jon Stewart
If Stewart-- a fellow William & Mary grad-- were elected, America would enter a second Era of Good Feelings.



William Henry Harrison - Steve Buscemi
Harrison was President for 30 days, then died of pneumonia. Hmmm... what actor looks like he's 30 days from death?


Zachary Taylor - Isaac Hanson
We'll let you figure out why.