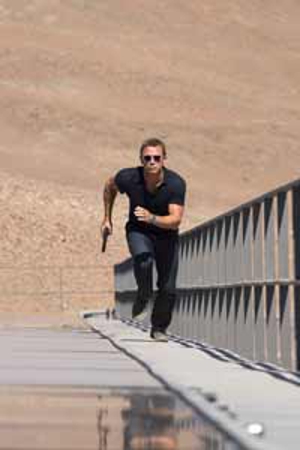 Release Date: Nov. 14
Director: Marc Forster
Writer: Paul Haggis, Neal Purvis, Robert Wade
Starring: Daniel Craig, Olga Kurylenko, Mathieu Amalric, Judi Dench
Studio/Run Time: MGM/Columbia, 106 mins.
Purists complained when Daniel Craig was cast as 007 (A blonde Bond?!?), but the semi-reboot Casino Royale proved them wrong. Craig's take on Bond turned out to be lean and vicious. He's a far cry from any other version of the character, but no less magnetic. Apply Trainspotting's assessment of Sean Connery's Bond years: He's a muscular actor. Too bad the muscles are most of what Craig has to leverage in his second turn, Quantum of Solace.
Picking up mere minutes after the end of Casino Royale, this film seemingly aspires to be little more than a Bourne-inspired thrill ride. An opening car chase is followed by a boat chase, which is eventually followed by a sequence with planes. There's a motorbike in here, too; it's like an action movie made by the Department of Transportation. Unlike Casino Royale, however, characters rarely triumph in the fight against motion. Even dialogue scenes are paced like high-octane setpieces. There's very little downtime in this tale.
Bond begins by interrogating one of the men responsible for the death of Casino's Vesper Lynde. Turns out he's part of an organization called Quantum, which features businessman Dominic Greene (The Diving Bell and the Butterfly's Mathieu Amalric) as a prime mover. Assisted by the vengeful Camille (Olga Kurylenko) Bond stumbles into a plot to control part of South America's water supply. Despite a few perfectly staged moments (like Bond's surveillance of Quantum at an overblown opera), the story feels barely stitched together. It's not the silly Paul Haggis dogmatic political dialogue that hurts, but the sense that there's as little thought behind this effort as possible. Luckily, that's par for the course with Bond, whose movies must almost be judged on their own scale, and Quantum of Solace is far from the least entertaining MI6 movie we've seen this decade.
Watch the trailer for Quantum of Solace:
Others Tagged With