Reconnaissance Man: Damon Albarn's Musical Explorations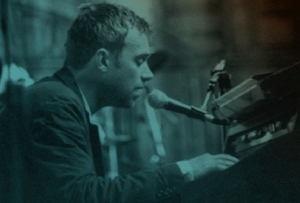 In a downtown Toronto park, Damon Albarn is discussing the finer points of composing a Chinese opera when a black squirrel snares his attention. "Do you know we're eating squirrels in England?" he asks, watching the animal forage among the leaves. "It's become a new lean-meat sensation."

He quickly turns the discussion back toward Monkey: Journey to the West, the score (and subsequent album) he wrote for the Chinese opera of the same name. Before composing it, Albarn did some foraging of his own on a cultural-reconnaissance trip to China. "We heard a lot of tribal music as well. Up in the mountains. Where these people get out their blades of grass and start playing these kind of strange and ancient grass-generated tunes," he says. "It felt very organic."

Albarn recorded in London and Beijing with a team of European and Chinese musicians. He decided to keep the lyrics in Mandarin and compose 
using the traditional Chinese scale. "I was looking at a five-point star," he says. "I put the notes of the pentatonic to each point on the star. And I had this great image of stars rotating, and I used that to rotate numbers. It was a very simple music system that could alleviate some of the anxiety of pastiching it."

If you've not been keeping up with Albarn, Mandarin opera may seem like an odd diversion. But China is merely the latest stop on Albarn's post-Blur world tour. Casting aside Britpop after 2003's Think Tank, Albarn's universe expanded: He moved from trippy hip-hop (Gorillaz) to slinky Malian guitar (Mali Music) to the international supergroup that recorded The Good, The Bad and The Queen, and that featured legendary Afrobeat drummer Tony Allen, a veteran of Fela Kuti's band. The two will soon re-team to record in Lagos.

Of course, this musical globetrotting doesn't come cheap, but there is the odd payoff: "Sometimes you hit the ball true," Albarn says, "and you do really well. It's like, what do you do at that point? What do you do when you make money? It's all compost. Money should be compost."

Albarn has recently finished producing the new album for acclaimed Malian pop duo Amadou and Mariam. There's also been talk of Iraqi music. And then there's the business of a third Gorillaz album, which will include a trip to Syria to record a string ensemble.

Albarn says he's accumulated plenty of recordings during his travels. And if the demos ever surface, don't expect to find them in the world-music section. "'World music.' I don't subscribe to that. It's all music," he says. "It's a very bad tagline because it does suggest that we're somehow living on a different planet." And he's got his hands full on this one.
Others Tagged With